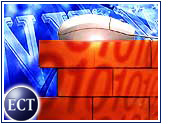 Amazon.com (Nasdaq: AMZN) expanded its reach into brick-and-mortar stores overseas with its announcement Wednesday that its British arm, Amazon.co.uk, has teamed up with European mobile phone provider Carphone Warehouse to offer customers pre-paid phones online.
According to Carphone Warehouse, the deal is the first brick-and-mortar partnership for Amazon in Europe.
Amazon.co.uk's new electronics storefront, which is now co-branded with Carphone, offers pre-pay versions of mobile phone brands such as Nokia, Motorola, Siemens, Panasonic and Sony.
Amazon.co.uk is responsible for the stocking, selling and delivering of the phones, while Carphone Warehouse will feature Amazon offers both on its own Web site and at its offline retail stores. Later this year, the agreement will be extended to include landline phones.
Cautious Strategy
The agreement with Carphone continues Amazon's strategy of allying exclusively with established brand name companies. Carphone has 1,059 stores across 15 markets, including Belgium, France, Germany, the Netherlands, Portugal and Spain, with e-commerce Web sites in five countries.
Carphone sells mobile phones and services from major manufacturers and service providers. According to the company, Carphone's retail business served over 3.8 million customers for the year ending March 31st, an increase of 63 percent over the same period last year.
The company posted yearly net income growth of nearly 26 percent in 2000, up approximately US$26 million.
Carphone Warehouse also operates its own wireless-accessible Internet portal, Mviva, which offers news, online shopping, and other services through a partnership with AOL Europe. Mviva is currently in five European markets, with plans to expand throughout Europe over the next year.
Photo Finish
Amazon also announced an exclusive agreement with a German digital photography company, PixelNet, that will provide customers of Amazon's German site, Amazon.de, with online photo printing services.
PixelNet offers a mail-order photo processing service for analog film, as well as digital processing that is conducted over the Internet. Pictures taken using digital cameras are sent via the Internet to the PixelNet laboratory, which then produces print copies and sends them to the customer free of mailing charges.
PixelNet posted a loss before interest and tax of 2.08 million euros (approximately US$1.75 million) in the first quarter, but says it expects annual increases in sales over the next two years to average 250 percent.
Big Bricks Only
Amazon has generally bucked the e-commerce trend of relying on brick-and-mortar alliances for survival, with a few major exceptions.
The co-branded site launched almost a year ago by Amazon and Toys 'R' Us' has proven quite successful in driving sales for both companies. Moreover, the two expanded their alliance in May with the plan to integrate the Toys 'R' Us-owned Babiesrus.com site into Amazon's pages.
Amazon also inked a deal with brick-and-mortar bookseller Borders to operate the Borders.com site.