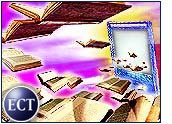 Mirroring a move made by Amazon.com (Nasdaq: AMZN) two weeks ago, Barnesandnoble.com (Nasdaq: BNBN) announced Monday that it will offer free shipping for consumers purchasing two or more items.
In a jab at Amazon, which raised the prices on some items when it offered to pick up the shipping tab for customers, Barnesandnoble.com said that its "low product prices remain unchanged."
Said Barnesandnoble.com vice chairman Steve Riggio: "Now, we're offering free shipping without changing our prices or making any fine-print exceptions."
Carolyn Brown, director of communications at Barnesandnoble.com, told the E-Commerce Times that the online bookseller has not decided how long the promotion would last.
Barnesandnoble.com's Offer
Barnesandnoble.com is offering free standard shipping on customer orders of two or more items purchased from the company's selection of books, CDs, video, DVDs, magazines and eBooks.
Shipping on orders of single items has also been reduced to US$3.48 for one book or video, and $1.98 for one CD, tape or DVD.
Posters at the message forum of comparison shopping site FatWallet.com apparently approve of Barnesandnoble.com's offer.
"Amazon cheats customers when it offers free shipping while raising prices on its products," a poster wrote. "[Barnesandnoble.com] is honest when it says free shipping without raising prices."
Amazon's Offer
Visitors to Amazon's site are greeted with a pop-up window that promises visitors free shipping when they buy two or more items, in any combination, from the e-tailer's books, music, DVD or video stores.
"At Amazon.com, we're always working to make your shopping experience as simple as possible," the e-tailer says. "For qualifying orders, the price you see is the price you get — you'll no longer need to factor in shipping charges at the end of your order."
Amazon added that it had also reduced shipping charges on single-item orders and on international shipments.
User Backlash
However, the fine print of the offer warns visitors that the company has changed its pricing "on some books." Amazon said that it had lowered the prices on some products but "reduced our discounts" on others.
Those "reduced discounts" did not go unnoticed among posters at the FatWallet Forum.
"Did anyone else notice the prices on most DVD titles went up?" a poster named Cornelius wrote. "I have about 40 DVDs in my 'save for later' section that I move to the shopping cart as I want to buy them when a coupon or [gift certificate] becomes available. Nearly all of them went up about $3 in price."
Is Amazon Listening?
Amazon spokesperson Bill Curry told the E-Commerce Times that Amazon's promotion is scheduled to end Wednesday. Amazon will analyze the results and make a decision on whether to continue it, Curry said.
When asked if Barnesandnoble.com's promotion would have any affect on Amazon's decision, Curry said: "We look at what our customers say and not what our competitors do."
He also said that the "overwhelming majority" of Amazon customers had saved with the promotion, in spite of the price increases on some items.
Back Door
In any case, some Internet shoppers have found a way to circumvent Amazon's price increases. Several posters at FatWallet urged their shopping brethren who only want one item to purchase "The Book of Hope" for 49 cents, in order to qualify for free shipping.
Notably, the 64-page book has shot to No. 51 on Amazon's best-seller list.
Amazon's offer is only good on orders shipped to a single address within the mainland U.S. The offer also excludes digitally downloaded material and all other items sold by Amazon.