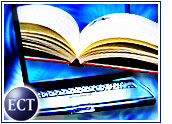 In a boost to the fledgling electronic books industry, the National Book Foundation said Friday it would consider e-books for its prestigious National Book Awards this year for the first time.
The National Book Awards, which carry a US$10,000 prize in four categories, are widely considered one of the two highest honors for a single book in the United States, the other being the Pulitzer Prize.
"Our decision ensures that all important published literary work — whatever the format — will be part of the playing field," said Neil Baldwin, the foundation's executive director. "With books appearing in a new electronic format, we believe appropriate consideration should be given to e-books."
Although books published only in electronic format will be accepted in the existing categories of fiction, non-fiction, young people's literature and poetry, the foundation will not accept the books in electronic form for consideration in the awards program.
Judges will read the books only in printed format. Publishers submitting e-books for consideration must provide the foundation with information on where and how the book can be downloaded.
The awards will be presented in November in New York City.
Sparking Interest
E-books are gaining ground on a number of fronts.
Ipsos-NPD BookTrends released a survey Thursday showing that one in every four online shoppers has considered buying an electronic book.
In fact, 3 percent of more than 3,200 online users surveyed by the Rosemont, Illinois research firm said they were very likely to buy an e-book. The survey also found that consumers believe e-books should cost less than their bound and printed counterparts, which is not always the case.
E-Tailers in Line
Web merchants have shown interest in e-books and electronic publishing ventures in recent months. For example, Barnesandnoble.com made e-books a feature of its online strategy, establishing a separate e-publishing division in January.
Amazon has also made moves to capitalize on what could be a lucrative market for downloads, since they require no shipping and handling, which can often drain an e-tailer's profits.
In April, Amazon inked a deal with software maker Adobe that will enable Amazon customers to more easily download and print e-books.
Riding Herd
The year 2000 had one major e-book success in the form of Stephen King's "Riding the Bullet," which the horror writer released only online. Demand for the e-book caused traffic jams at several e-tail sites.
However, subsequent experiments, including King's own cancelled effort to write an online novel in serial form and sell installments via the honor system, yielded far less impressive results.
Online booksellers may have their eyes focused on the long-range forecasts, which are more favorable. According to a IDC study released late last year, the online book market is poised to grow from $9 million in 2000 to $414 million by 2004.