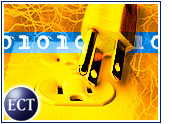 Online auctioneer eBay (Nasdaq: EBAY)


suffered a series of Web site outages on Sunday, including a glitch in the clothing and jewelry categories lasting more than nine hours.
Site visitors could not view or bid on items in theclothing and accessories category and the jewelry,gems and watches category between 10:55 a.m. and 8:07 p.m. PDT.
"[Due to] the nature of the business, keeping its siteup and running 24/7 is more important to eBay than itis to, say, Amazon," Morningstar.com


analyst David Kathman told the E-Commerce Times.
In addition, site registrants were unable to accesseBay's "View Account" feature for on Sunday from 6:05 a.m. to 6:45 a.m. PDT.
Damage Control
For much of the nine-hour outage, would-be sellerscould not list items or update item descriptionsin these two categories.
"We understand the frustration that any system issuecauses our user," eBay said, apologizing for the inconvenience the outage caused.
Since viewing and bidding were unavailable for morethan two hours, eBay said it would credit allassociated fees and extend all listings scheduled toend between 10:55 a.m. and 10:30 p.m. PDT on Sunday, inaccordance with its outage policy.
Up and Down
Following a comprehensive hardware upgrade in early 2001,eBay had experienced only minor site hiccups –claiming 99.9 percent uptime — until March 2002.
Last month, the company endured a 90 minute outage that prevented access to some pages but spared thebidding system, according to published reports.
A few days later, some users experienced problemsdownloading graphics from eBay's site, reports stated.
Hosting Help
Mindful of the importance of site uptime, eBayannounced last week a site hostingagreement with Intel Online Services, a division of Intel Corp.
The announcement came shortly after eBay said in itsannual report, filed with the U.S. Securities andExchange Commission (SEC), that all its Web hostingfacilities are concentrated in three West Coast locations, operated by Exodus Communications, Qwest Communications (NYSE: Q)


and Sprint (NYSE: FON)


.
Possible Harm
"We have experienced periodic system interruptions,which we believe will continue to occur from time totime," the filing said. "Any failure to expand orupgrade our systems at least as fast as the growth indemand for capacity could cause the Web site to becomeunstable and possibly cease to operate for periods oftime. Unscheduled downtime could harm our business."
EBay's 42 million users will not experiencedisruptions as the Intel (Nasdaq: INTC)


Online hosting program goesinto effect, according to company spokesperson KevinPursglove.
"The arrangement with Intel will complement eBay'sexisting hosting facilities," Pursglove told theE-Commerce Times. "This means there arenow additional and diversified hosting capabilities,ensuring eBay users continued site access."
Going Wide
The Intel Online Services deal is part of eBay'slarger strategy to diversify its hosting options, saidPursglove.
"If they want to keep growing, they'll have toconstantly be upgrading infrastructure — anddiversifying their hosting seems to be a good step inthat direction," said Kathman.
"The more spread out their servers are, the lesschance there is for a single disruption to take downthe whole site," he concluded.