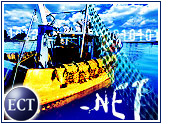 Contrary to what Microsoft's .NET spindoctors would have users believe, the software powerhouseis not likely to dominate e-commerce the way it now rulesthe desktop.
".NET will not radically change Microsoft's positionwithin e-commerce," Giga Information Group analyst Andrew Bartels told the E-Commerce Times. "It will not be a breakthrough."
Microsoft entered the e-commerce space years ago withportal and shopping sites and commerce servers, butthe company has yet to rise above also-ran status in the industry.And pundits said there is no reason to think .NET willdramatically improve Microsoft's e-commerce rank.
Been There
As it stands, Microsoft's MSN portal — repletewith consumer products and services for sale — is one of the Web's most-visited destinations, as are its small business e-commerce site, bCentral, and otherrelated properties.
In fact, the company's Web sites drew more than 79 million uniquevisitors in February, second only to AOL Time Warner sites, according to Jupiter Media Metrix.
What is more, in the e-commerce server industry,Microsoft claims ownership of 20 percent of all serverlicense fees, Giga's Bartels noted.
"Microsoft is already a player in e-commerce," hesaid. ".NET just extends these existing models."
Passport Control
Both .NET and the Passport single sign-on system could serve as effective customer analysis and marketing toolsfor Microsoft, according to Morningstar.com analyst David Kathman.
"Data collected on customers [through Passport]potentially could be valuable for e-commerce,"Kathman told the E-Commerce Times. "After all, customer data isAmazon's greatest asset."
But e-commerce probably will not become Microsoft's stompinggrounds, as the operating system space did.
"It will be impossible for any one [e-commerce] vendorto do what Microsoft has done with desktops," Bartels said. "By that measure, Microsoft is not going toachieve the position in e-commerce that it hasachieved in desktops."
Ahead of Its Time?
Standing in the way of Microsoft's consumer e-commerce ambition is the reality that Web services — .NET's milieu — probably will not affect business-to-consumer (B2C) e-commerce anytime soon.
"Web services will mainly be a bust on the consumerside for the foreseeable future," Bartels said. "Itwill first be adopted within a company or withtrusted partners."
Kathman suggested that partnerships with leadingbrick-and-mortar retailers like Wal-Mart could bolsterMicrosoft's B2C stance.
But while the likes of Amazon and Wal-Mart are respectfulof Microsoft, Bartels argued, they have no intentionof letting Microsoft dominate the business.
Moving Violations
In addition, Microsoft may have hampered its own candidacyfor e-commerce stardom by compiling a track record ofcustomer alienation, security breaches and underhanded land-grabbing, according to Kathman.
"There has been a huge backlash [against Microsoft] from the JusticeDepartment dealings and public relations problems,"he said.
Facing a consumer population wary of sharing personalinformation with any third party, Microsoft weakensits trustworthiness with every announcement of a new security vulnerability uncovered in its Internet browser, instant messaging and other software products, he added.
"If Microsoft wants to become an e-commerce force, itneeds to watch what it says and should not scarepeople any more than [it] already has," Kathmancautioned.