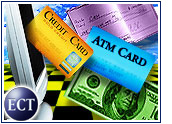 Saying that the number of members using its online bill payment service has doubled recently, MSN on Tuesday launched its latest challenge to the dominance of online banks and financial institutions.
MSN, the online network owned by Microsoft (Nasdaq: MSFT), said it will offer a free year of online bill payment service to anyone who uses its finance site to file a tax return.
"Online bill pay is quickly becoming one of the most useful financial activities conducted on the Web," said Chris Jolley, director of marketing of the Financial Products Group at Microsoft.
Double Trouble
But analysts said that while portals like MSN and bitter rival Yahoo! (Nasdaq: YHOO) offer a compelling argument that surfers can pay bills while conducting other online tasks, consumers seem most open to turning over their bill-paying duties to online banks and financial institutions.
"Consumers trust banks and already spend a considerable amount of time there focusing on their financial lives," NetRatings senior analyst Patrick Thomas told the E-Commerce Times. "It makes sense [that] if they're going to adopt a service like this, their bank or broker would be the one to provide it."
Pay as You Flow
In addition to the free offering, MSN said it will offer two other levels of service: a basic plan that lets users pay three bills per month for free and charges US$1.50 per payment after that, and an upgrade that allows 15 payments per month for $5.95.
The MSN expansion is only the latest in a recent flurry of activity in the online bill payment marketplace.
Although analysts have been predicting more consumer adoption of Internet bill payment for some time, reports of the service taking off began to emerge last fall.
Both the Yankee Group and Jupiter Media Metrix (Nasdaq: JMXI) reported strong growth in online payment services late last fall, though they differed on whether the anthrax scare gripping the country at the time was the cause of the spike in adoption.
Copy Cats
Meanwhile, the strong debut of PayPal on the Nasdaq earlier this year seems to have sparked renewed interest among companies hoping to capture a share of the online payment market.
Just days after PayPal's debut, EBay announced plans to buy back control of its Billpoint service from partner Wells Fargo, and online service provider Earthlink announced that it would partner with Paytrust on a bill payment service.