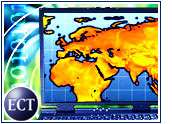 By year's end, more than 600 million people worldwidewill have Internet access and collectively will spend more thanUS$1 trillion online, according to research firm IDC.
But according to experts, regional e-commerce penetration seems to correlate closely with affluence and education.
"[E-commerce adoption] roughly [maps to] countries orregions with high purchasing power," Mauro Guillen,an associate professor at The Wharton School at theUniversity of Pennsylvania, told the E-Commerce Times.
"The Internet has not become the 'great equalizer,'but rather another medium that people with educationand money use more than people without them," Guillen said.
The United States now accounts for 40 percent of moneyspent online, but that proportion will slip to about38 percent by 2006 as residents of Asia and Western Europe increase their online spending, IDC reported.
First Shall Be Last?
The U.S. Department of Commerce (DOC) recentlyreported that domestic e-commerce grew to $32 billion in 2001,an increase of more than 19 percent over 2000.
However, first-world status by no means guaranteese-commerce adoption, some experts cautioned.
"Interestingly enough, [sometimes] the most difficultregions [to penetrate] are the most developed, due toinstalled administrative processes and bureaucracies,"California Institute of Technology professor CharlesPlott told the E-Commerce Times.
Asian Adoption
In the case of some Asian nations — such asSingapore, Korea and Hong Kong — governments arelobbying to bring their citizens online, contributingto rapid Internet penetration, research firm GartnerG2 noted.
Also, GartnerG2 said, broadband is improving the online experience,and more consumers now access the Web via television andmobile devices, increasing their opportunities to spend money online.
All told, IDC said it expects online buying in Asia will growabout 89 percent in 2002.
Euro-Commerce
E-commerce in Western Europe is expected to rise 68percent this year, partly because of common currency that brings better competition, price transparency and improved deals for online buyers, according to IDC.
"Europe has a different kind of an advantage becausethe cellular network is all on GSM [global system for mobile communications], and smart chips are universal," Guillen noted.
What is more, rapid growth of brick-and-clickretailers in this region has lifted consumerconfidence, GartnerG2 analyst Michael Cruz wrote in a recent report.
European e-commerce will account for about $86billion in 2002, a 48 percent increase over last year,GartnerG2 estimated.
Business Advantage
Even with online retail on the rise in the United States,Western Europe and Asia, sales still account for justa fraction of total retail revenue.
Indeed, online sales in the United States constituted just over1 percent of overall retail sales in 2001, accordingto the Department of Commerce. Similarly, European consumer e-commercewill account for just 2.3 percent of all sales in 2002,GartnerG2 predicted.
Therefore, it is not surprising that some analysts saybusiness-to-business (B2B) transactions will overshadowbusiness-to-consumer e-commerce on the world stage. Infact, B2B will account for 83 percent of worldwideonline sales in 2002 and 88 percent in 2006,according to IDC.
Miles To Go
Despite the bullish e-commerce outlook in many regionsaround the world, a number of obstacles still inhibitthe pace of growth.
In much of Europe, for example, narrowband accessdiscourages consumers from browsing retail sites forextended periods, GartnerG2's Cruz noted.
And in Asia, e-tailers continue to struggle to servemany languages, cultures and religionswith a single retail business model.
Other e-commerce obstacles unique to some Asiannations include concern about secure messagingtechnologies and Web servers, as well as widespreadpreference for face-to-face buying and livebargaining, Cruz added.
Slow on the Uptake
Coupled with developing nations' infrastructuredeficiencies, some obstacles are likely to persist, inhibiting the development of a global online buying majority, analysts agreed.
"We are still very far away from [an online buyingmajority]," Guillen said. "The Internet won't developas fast as some people thought it would."
Currently, e-commerce is growing most slowly inJapan, Latin America and Eastern Europe, IDC reported.
And online transactions will remain an oddity in most of SouthAsia, Africa, Central America and otherunderdeveloped areas, according to Guillen.
That said, some opportunities for growth andinnovation do exist in these areas.
"E-commerce that was previously thought to beimpossible — needing special contracts oradministrative procedures or brokers — has becomepossible," CalTech's Plott said.