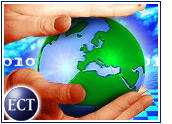 Whether they ply e-commerce in the travel, e-tail or auction sectors, most of the firms reporting strong 2001 earnings had one thing in common: gains in overseas sales that likely can sustain growth well into the future.
Underscoring the importance of worldwide growth, Amazon.com (Nasdaq: AMZN), which saw an 85 percent jump in international sales in the fourth quarter, reorganized its corporate structure late last year to wipe out all distinctions between domestic and overseas operations.
In fact, almost all major e-commerce companies consider a solid and ever-expanding overseas presence a must. International sales increases also were cited by EBay (Nasdaq: EBAY) and AOL in recent earnings reports.
Meanwhile, Priceline (Nasdaq: PCLN) pointed to a product rollout in Hong Kong and a takeover of its European counterpart as upbeat signs for 2002.
"It's a common theme right now for e-tailers," Forrester Research analyst James Crawford told the E-Commerce Times.
A Leg Up
With overseas competitors still getting their legs under them, many U.S. companies have been grabbing market share.
"For U.S. customers, there is little incentive to buy from a foreign company. But there is plenty of reason for international customers to seek out our e-tailers, whether they have a presence in their home country or not," Crawford said.
Depending on the sector in which they operate, e-commerce companies must use different approaches. For some, a local presence is a necessity; for others, it is an option.
But the bottom line is often the same: With rates of Internet adoption and e-commerce expansion starting to flatten in the United States, the type of top-line growth that impresses investors — especially when combined with profits — must be found elsewhere.
One Country at a Time
"We've made a commitment to international growth as a key part of our overall strategy," Allyson Henry, vice president of international product development at Expedia.com (Nasdaq: EXPE), told the E-Commerce Times. In addition to the United States, Expedia operates in Canada, Italy, the United Kingdom, Germany, France and The Netherlands.
"Right now, we're in Europe because that's where we've seen the adoption of technology," Henry said. "It's logical to look to the Asian markets and South America next, and before long you'll see Expedia there as well."
In fact, experts said the rate of technology adoption bodes well for a long run of solid sales growth for companies that can enter far-flung markets and deal with the challenges of language and currency translation.
For Expedia, each new overseas expansion has meant building a team that could cement relationships with local suppliers and help steer the company in the right direction, Henry said. After adding in expenses for technology and other necessary adaptations, entering even a single overseas market requires a major investment.
"The tricky thing is you don't want to be there too early," Henry added. "We're constantly checking the thermometer to decide if a country is ready."
Changing Landscape
Europe, in particular, has provided many U.S. e-commerce firms with much-needed sales and profit boosts. Amazon said its UK and German operations are already in the black.
But major changes are on the horizon for that continent. Dhruv Grewal, the Toyota professor of e-commerce at Babson College in Wellesley, Massachusetts, told the E-Commerce Times that the advent of the euro and the lowering of trade barriers will help European firms.
"What's driving European consumers to buy from companies based in the U.S. may not be as prevalent," Grewal said.
Missed Opportunities?
In addition, Grewal said, companies that already are turning overseas for a growth boost are overlooking an enormous opportunity that remains — here at home.
"These companies may see a chance to be first into a market again, but in reality, they're still capturing only a tiny fraction of the available market in their home countries," Grewal said. "The problem is that it's easier to pick up sales by entering a new market than it is to wrestle market share away from competitors or traditional retailers."
In fact, companies that expand too quickly overseas run the risk of spreading themselves too thin.
"There are some operations that can be leveraged internationally, but each step into a new country requires more investment and might detract focus from the main business goals — or what they should be," Grewal said.