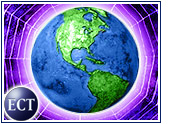 Online auction leader eBay (Nasdaq: EBAY) launched a local trading site in Singapore on Wednesday, beefing up a roster of overseas properties that have helped drive growth in recent quarters.
eBay Singapore will be an English-language site aimed at both individuals and businesses, the company said.
San Jose, California-based eBay said the new site is the latest example of a strategic effort to enter new international markets more quickly and efficiently, without extensive investment in language translation, currency exchange and other technology.
eBay Singapore users will be able to trade with other eBay users worldwide, the company said. Most items will be listed in U.S. dollars, though buyers and sellers will be able to negotiate prices in their local currency.
"With this strategy, eBay can better serve users in Singapore's e-commerce market, and there is greater opportunity for a local community to come together and grow," eBay said.
Looking at the Planet
The move is the latest step toward what eBay chief executive officer Meg Whitman has called the company's "dream of a marketplace where people anywhere on the planet can seamlessly trade almost anything."
eBay has also said its goal is to operate in 25 countries worldwide by 2005. And it is working toward that goal by launching new sites and buying existing ones.
The auction and fixed-price powerhouse already operates country-specific sites in Germany, the UK, and Japan. eBay also has a site in Korea, where it bought a majority stake in a local auction house for US$120 million in January.
How iBazar
In Europe, eBay also continues to integrate the operations of the iBazar auction sites, which it bought in February 2001 for $112 million.
The iBazar sites are country-specific to France, Italy, Spain, Brazil, the Netherlands, Sweden, Portugal and Belgium. eBay also operates in New Zealand and Australia through joint partnerships.
Like other dot-coms, eBay has turned to overseas growth in recent quarters because its once red-hot domestic growth has cooled to more pedestrian rates.
Positive Q3
Indeed, W.R. Hambrecht & Co. analyst Derek Brown noted that overseas revenues were a big reason for eBay's strong third quarter results, which were announced last week.
During the quarter, overseas revenue grew to $31 million from $25.3 million in the second quarter. International sales made up 16 percent of all eBay revenues during the third quarter.
Work Not Done
"It appears that online trading is as popular and holds as much potential in Germany, the UK and Korea as it is in the United States," Brown said in a recent report. "eBay's international expansion efforts appear to be extremely successful."
However, Brown added, the auction giant has to keep expanding to new markets in order to obtain ambitious growth and profit goals.
"International expansion is critical to eBay's long-term success," he said.