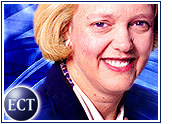 eBay CEO Meg Whitman is smiling. And why not? The Internet powerhouse that she leads just reported strong third-quarter earnings. But something tells me that she'd be smiling even if eBay had stumbled badly.
The eBay (Nasdaq: EBAY) franchise, it turns out, isn't based just on its community or its great tech platform or cool multicolored logo. It's optimism — pure, sugary belief that what it's doing is worthwhile and, above all, destined for success.
A one-day, six-dollar stock price drop, like the one eBay suffered the day after its earnings announcement came out, would send most companies scrambling for the umbrella. Others would build arks.
At eBay, it's just a passing cloud.
From the Top
Much of the positive attitude comes directly from Whitman herself. On television, a few hours after her company's earning announcement, Whitman expressed confidence that eBay would attain the US$100 million in 100 days goal it had set for itself with its September 11th-inspired Auction for America.
Actually, "confidence" isn't an adequate word. Whitman sounded perfectly sure of it — as if there could be no doubt. There is doubt, of course: eBay says it has raised about $5 million to date. The auction ends, in what Whitman called a coincidence, on Christmas Day.
But she was unwavering. It will happen, she said, because bigger-ticket items are coming to the auction. And it will happen because thousands of eBay members are listing low-price items, like children's drawings.
Gotta Have Faith
And right there, it became crystal clear that Whitman really did believe eBay will reach its goal. No one, no matter how great an actress, no matter how accomplished a liar, could fake belief in the power of the eBay community that convincingly. She believes it.
That strong a faith will trickle down through an organization. When eBay's spokespersons talk about the power of community, the value of the eBay platform, you get the sense they truly believe it too.
And why not? Profits continue to roll in, and eBay employees are among the few in the dot-com world who own stock options that are actually worth something. They have seen their company grow from a cute little Internet sideshow into what is arguably the premier online retail platform.
Their model is being imitated left and right — by little startups and giants like Yahoo! (Nasdaq: YHOO). Economists are tripping over each other in a rush to proclaim that an economic downturn will help eBay, as people search for bargains or seek to unload the stuff they acquired on the way up.
Riders on the Storm
But even all that good news doesn't explain the utter lack of pessimism. The complete absence of visible doubt.
Maybe there's a rule at eBay stating that all negative comments be made in the privacy of a boardroom. The public face is perfectly upbeat and perfectly unified.
And it matters. It's infectious. If eBay believes strongly enough in eBay's future, those around the company will as well. Compare the eBay attitude with the qualification and equivocation that come out of other e-tailers whenever they discuss their future earnings or their profit prospects.
It's no wonder that every day the gap between eBay and everybody else gets wider and wider. When Meg Whitman is done shepherding eBay toward the promised land, she should hit the lecture circuit and tell us all more about the power of positive thinking.
What do you think? Let's talk about it.
---
Note:
The opinions expressed by our columnists are their own and do not necessarily reflect the views of the E-Commerce Times or its management.
---