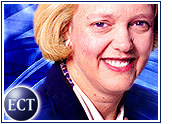 Online auctioneer eBay (Nasdaq: EBAY) topped analyst estimates in the thirdquarter ended September 30th, and raised estimates for the current quarteras well.
The company on Thursday reported earnings before charges of US$34.9 million,or 12 cents per share — topping the 11 cents expected by analysts — alongwith a 71 percent increase in revenue to $194.4 million. Net income totaled$18.8 million, or 7 cents per share.
"In these extraordinary times, we continue to be impressed by the strengthand resiliency of our user community," said eBay president and chiefexecutive officer Meg Whitman. "We're continuing to see sustained growthacross our U.S. and international markets, deeper penetration into manyvertical categories and expanded adoption of our fixed-price tradingformats."
eBay raised its forecast for fourth-quarter revenue by about $5 million,saying it now expects to generate $200 million to $210 million, even takinginto account the "changing economic environment" and its "Auction forAmerica" charity auction to benefit victims of the September 11th terroristattacks.
However, eBay chief financial officer Rajiv Dutta said the company's guidancewas tempered somewhat to reflect a weak economy, and would have been higherif economic conditions looked better.
Growth Factors
The company attributed its revenue gain to strong growth across all itsbusiness lines. In a conference call with analysts and investors, Whitman said that "these results clearly demonstrate the continued vibrancy"of the eBay business model.
Though the September 11 attacks held business back initially,buyers are returning, Whitman said. She added that while the Auction for America project is also "diverting"some goods away from the regular eBay auctions, the size of the impact is"modest."
Holiday Push
eBay executives said the company plans to promote itself as a key holidayshopping destination, with newspaper inserts, TV ads and a catalog thatwill be distributed in 40 offline markets.
Chief operating officer BrianSwette said the push will be "the strongest and most integrated effortever." Through its alliance with AOL Time Warner (NYSE: AOL), he said, eBay willbe able to use TV spots during the holiday season.
There will also be an online catalog showcasing "hard-to-find" items likehot toys that are at risk of selling out, as well as more "value-oriented" items that eBay expects willappeal to consumers strapped for cash in a weak economy, Swette said.
The overall aim, he said, is to promote eBay as a "mainstream" holiday shoppingdestination.
User Base Doubles
eBay said it had about 37.6 million users at quarter's end, up 99 percentfrom a year earlier.
The company's shares fell in after-hours trading, slipping $1.14 to $55.95. Duringregular market hours, investors had bid the stock higher.