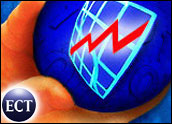 If you wanted to triple your money in three years, are there technology investments that could help you do it? Not likely, say most analysts and portfolio managers.
For returns like that, "go to Vegas," U.S. Bancorp Piper Jaffray senior research analyst Jon Ekoniak told the E-Commerce Times.
In contrast to a few years ago, when a holding in a stock like Yahoo! (Nasdaq: YHOO) might have increased more than 1,000 percent, "most investors right now are looking for stable investments, that return maybe 15 to 20 percent a year," Ekoniak said.
Still, there are those who say technology stocks have been pounded so hard in recent months that they just might be able to score 100 or 200 percent gains over time.
Reassess the Depressed
Peter Canelo, equity strategist at Morgan Stanley Dean Witter, told the E-Commerce Times that some stocks have been beaten up more than they deserve. Even 100 percent gains would not return those stocks to year-ago levels, Canelo said.
"Prices are now so depressed, the only real issue in many of these cases is just to be sure you're dealing with a going concern and they're not going to have massive margin problems," Canelo said.
Canelo said reports that Cisco (Nasdaq: CSCO) is sticking by first-quarter targets "give some hope that maybe things are settling down, or at least bottoming out."
Upside for Speculators
Morgan Stanley chief investment strategist Byron Wien recently issued a "Dirty Dozen" list of stocks that have fallen so far as to make them especially attractive at current levels. Among tech stocks on the list were Corning (NYSE: GLW), Teradyne (NYSE: TER), Network Associates (Nasdaq: NETA) and Oracle (Nasdaq: ORCL).
Some on the list could double in value over the next couple of years, Canelo said.
"These stocks are highly volatile, and they've just been devastated," Canelo said. "If you're a speculator, you've got yourself some upside."
Earning Their Keep
Investors ought to keep an eye on tech stocks as quarterly earnings season gets underway, Canelo said.
"You'll probably run into some selling" as companies report, Canelo said. "The ones that hold up better, even if the earnings are not great, are the ones that will be in the leadership and give you triple (returns)."
Canelo said he likes AOL Time Warner (NYSE: AOL) and eBay (Nasdaq: EBAY). Ekoniak has his eye on Siebel Systems (Nasdaq: SEBL) and Peoplesoft (Nasdaq: PSFT), which hesaid are "very high-quality names with good management teams."
Stalled Economy
William Fries, managing director of the Thornburg Value Fund, is also sticking to well-known names in the tech sector.
"I think two large companies like AOL and Microsoft, in the environment we're in, are probably about as secure as any," Fries told the E-Commerce Times.
The economy, already sluggish, was "stopped cold" by the terrorist attacks on the United States last month, said Fries. Though Fries said that investor confidence should improve in coming months, he added that "the economy is very soft, much softer than we thought it was."
As a result, Fries is limiting his holdings to "industries that are going to have firm results regardless." That strategy does include technology, Fries said.
Wait 'Til Next Year
Fries said that the tech sector could benefit from lower interest rates and will recover as the economy eventually gets better, he said.
"Assuming we have progress on the war (against terrorism), by this time next year, there will be an improving demand picture for software services, and perhaps even hardware," he said.
Fries said the telecom service sector also bears watching. Sprint and Verizon are "in the throes of developing" next-generation products, and will start to do better over the next few years, he said.