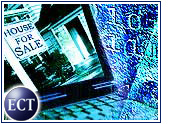 Online real-estate companies are being hurt by a slow economy and the pullbackin consumer spending, with market leader Homestore.com (Nasdaq: HOMS) warning this week of a third-quarter loss and its competitors struggling as well.
Rival Homeseekers.com (OTC: HMSK), which was delisted by the Nasdaq stock market this summer, also weighed in with bad news this week when the new management team warned of a lengthy reorganization ahead.
News that the number of jobless Americans increased in September, evenbefore taking the terrorist attacks into account, is not likely to help thereal-estate market. The Labor Department said Friday that nonfarm payrollsfell by 199,000 last month, while the jobless rate held steady at 4.9percent.
On the bright side for spending, however, Federal Reserve policymakers onTuesday lowered short-term interest rates to 2.5 percent in effort to get the economy moving again. That move could lead to lower mortgage rates.
Homestore Looks Down
It was a bad week for online realtors, however. Homestore shares tumbled,closing Thursday at $5.68 as the company lowered its outlook for thequarter just ended. Homestore shares have traded as high as $46.88 over thepast year. As of 10:30 a.m. ET Friday, the shares were trading at $5.40.
The Internet realtor, which is based in Westlake Village, California, said the September 11th terrorist attacks on New York and Washington "compounded an already deteriorating advertising market and caused a loss of business due to thecancellation of sales visits to professional customers."
Homestore also said it expects revenue of $114 million to $118 million for thequarter ending September 30th, with a loss before "nonrecurring items" of1 to 6 cents per share. In early September, the company had reaffirmed earlier guidance that it expected a pro forma profit of 16 cents per share on revenue of $134 million.
Long Way Home
Goldman Sachs analyst Anthony Noto said that while the shortfall for Homestore is greater than expected — he had been looking for revenue of $127 million andearnings of 13 cents per share, reflecting an already lowered outlook — thelong-term prospects for the stock are good.
"Homestore is a leading platform company in a large space with multiple opportunities to drive growth insubscription and advertising and EBITDA growth," Goldman wrote in a research note Wednesday.
Homestore, which is aligned with the National Association of Realtors,also said it is supporting disaster-relief efforts, including a fund to helpfamilies affected by the tragedy pay their mortgages and rents.
Homeseekers Revamps
Homeseekers, meanwhile, said Wednesday that revenue for the quarter ended June 30th was unchanged from a year earlier at $3.7 million.The company said its net loss widened to $20.7 million from $11.9 million,after write-downs of $20.1 million for investments and other assets.
Homeseekers is in the throes of a reorganization, with a new management team having taken over less than a month ago.
"Much work needs to be done to build fiscal responsibility into the fabric of this company," said Todd Kehoe, Homeseeker's new chief financial officer.
Chief executive officer B.J. Rone said the new management team will focus on"balance sheet reconciliation, eliminating overlapping functions, facilitiesand personnel and creating cohesion in a snake's nest of unintegratedbusiness acquisitions."