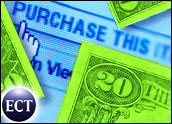 High-tech and e-business companies have rebounded nicely from the sales slowdown that followed the September 11th attacks on the United States, and the bigger, more diversified e-tailers should be able to meet third-quarter earnings targets, analysts say.
First Call predicts that consumer Internet company earnings will be 37 percentbetter than they were last year, research director Chuck Hill told the E-Commerce Times.
Of the 47 companies in the index First Call tracks, 20 are expected to be profitable this quarter, one is forecast to break even and the remaining 26 are predicted to lose money, First Call said.
However, Hill did note that AOL Time Warner (NYSE: AOL) skews the overall index higher.
"If you took AOL out, [the companies in the index would] be losing money," he said.
Bring It On
The quarterly earnings season got underway last week, with Yahoo! (Nasdaq: YHOO) posting a loss for the quarter and online brokerage E*Trade (NYSE: ET) beating estimates.
Other companies will weigh in with their third-quarter results in coming days, including Intel (Nasdaq: INTC) and RealNetworks (Nasdaq: RNWK) on Tuesday, AOL Time Warner, Apple Computer (Nasdaq: AAPL) and Advanced Micro Devices (NYSE: AMD) on Wednesday, and Microsoft (Nasdaq: MSFT) and Gateway (NYSE: GTW) on Thursday.
Analysts say the bigger, more established Internet companies like Amazon.com (Nasdaq: AMZN), which reports on October 23rd, and auction giant eBay (Nasdaq: EBAY), which reports Thursday, should be able to meet or beat expectations for the quarter.
Future Stability
Industry watchers are going to be looking at the third-quarter reports from e-tailers for clues about the fourth quarter, which includes the all-important holiday shopping season.
Companies like eBay and online travel site Expedia (Nasdaq: EXPE) "seem to have a real business, and a growing business," said Hill. "Whether some of these others will ever get to profitability remains to be seen."
Overall, First Call predicts corporate earnings will be down about 22 percent year-over-year for Q3. Before the September 11th attacks, the forecast had been for a 17 percent drop.
Risk and Clue
At Goldman Sachs, analysts lowered their estimates for Internet companies inthe weeks just after the attacks, reflecting a "diminished outlook forconsumer spending and online advertising." Goldman cited AOL Time Warner, eBay and EarthLink (Nasdaq: ELNK) as companies that stand out from the crowd.
The fragile e-commerce environment "has been exacerbated by the events of 9/11 and the ensuing uncertainty surrounding ongoing military/terrorist developments," Goldman analysts wrote in an October 4th research note. "The duration of the pullback of consumer spending will be key in the determination of the performance of e-commerce companies."
eBay and 1-800-Flowers.com (Nasdaq: FLWS) are the best positioned to grow, according to Goldman. In mid-September, eBay reaffirmed its intent to meet analyst expectations for the quarter, even after taking into account aslowdown in sales and the company's Auction for America, a plan to raise US$100 million for charity.
E-Tail Horizon
On average, analysts expect eBay to earn 11 cents per share on revenue of $185 million. Amazon is expected to lose 16 cents per share.
One sector that does expect to take a hit is online travel. Expedia (Nasdaq:EXPE), Travelocity (Nasdaq: TVLY) and Priceline (Nasdaq: PCLN) all saw alarge number of cancellations in late September, though the companies have said that business has been picking up.
Mopping Up
Investors will also be looking outside earnings reports for information about future stock values.
"We expect that investors' attention will be riveted on military actions and potential reactions over the next few weeks, and earnings will temporarily assume a secondary role," wrote Prudential Securities quantitative analyst Ed Keon in a report issued October 8th.
"Companies may well throw in the towel this quarter, taking a big bath to clean themselves of any dirty accounting secrets," wrote Keon. "Investors may well applaud this, to the extent that it sets the stage for a more vigorous recovery."