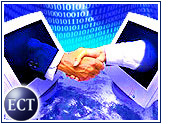 In a move that underscores its desire to become a fixed-price e-tail force, eBay (Nasdaq: EBAY) said it is stepping up plans to absorb its Half.com subsidiary.
While eBay has made no efforts to keep secret its plans to more closely align its original auction site and Half.com, the San Jose, California company now says it will start to fold the two together this quarter.
"We have always believed that our business and the success of the eBay community of users is best served by one seamless global brand," eBay spokesperson Kevin Pursglove told the E-Commerce Times on Wednesday. "The decision to speed up the integration will likely result in dropping the Half brand altogether in favor of an identity directly linked to eBay."
Before that happens, however, the Half.com and eBay feedback systems will be integrated. Other features will begin to merge, starting as soon as the end of the current quarter.
All Together … Almost
Pursglove said that the integration will result in 18 jobs being cut from Half.com.
Another 27 workers, most in customer service at Half.com, will be offered the chance to move to eBay headquarters in San Jose, California or its customer service facility in Salt Lake City, Utah.
Half.com, which founded in July 1999, is based in Plymouth Meeting, Pennsylvania.
When the integration is complete, Half.com will continue to have about 70 employees in Pennsylvania and Texas, Pursglove said. Half.com founder Josh Kopelman will continue with the company and "play a leading role in driving eBay's overall fixed price strategy."
eBay acquired Half.com in June 2000 in a stock deal worth about $350 million.
Fixed-Price Success
Pursglove said the timing of the integration was moved up in part because of the popularity of both Half.com and eBay's "Buy It Now" feature.
Together, the two fixed-price options accounted for about 14 percent of eBay's gross sales during the second quarter and continue to grow, he said.
"They've laid the groundwork for expansion of Half.com by introducing all kinds of new categories. I assume that they want to get that expansion rolling," Morningstar.com analyst David Kathman told the E-Commerce Times. "They're financially robust and have no major problems to deal with, so they probably figured now is as good a time as any."
No Secret
Pursglove noted that eBay chief executive officer Meg Whitman and other executives have been hinting at the Half.com integration for some time.
Whitman told eBay shareholders in May that eBay hoped to blend the best of eBay and Half.com. Buyers, she said at the time, favor eBay for its variety and selection, while sellers enjoy the ease-of-use of Half.com, which enables them to list an item simply by typing in an ISBN number or UPC code.
Analysts have long predicted an eBay showdown with Amazon.com over fixed-price retail. The two companies are currently locked in a legal battle over eBay's attempt to hire a former Amazon financial executive.