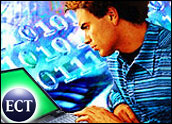 Although e-commerce purchasing and Internet use are divided almost evenly among men and women in the United States, global Web use continues to be dominated by men, according to a Nielsen//NetRatings (Nasdaq: NTRT) report issued Thursday.
The differing demographics at home and abroad may pose a strategic challenge for a host of U.S.-based e-commerce players that are counting on international operations to help drive sales growth.
"Companies need to know who their audience is, how their site is currently performing in areas that are important to their business, and whether it makes sense to expand to other countries," said Richard Goosey, chief of measurement science and analytics at Nielsen//NetRatings. "The demographic makeup of their audience can vary significantly across regions."
A World of Contrasts
For instance, in North America, Yahoo! (Nasdaq: YHOO) has an audience that is 51 percent female. In Asia, females make up 43 percent of the audience, and in Europe and emerging markets — a group that includes Israel, South Africa and India — just 36 percent of Yahoo! traffic is generated by female Web users.
E-tailer Amazon.com (Nasdaq: AMZN) is in a similar situation. While more than half — 56 percent — of Amazon's U.S. and Canadian audience is made up of women, less than 40 percent of its overseas visitors are female.
For EBay (Nasdaq: EBAY), the contrast is even sharper. At home, 47 percent of visits to the auction leader are made by women, compared with just 37 percent in Europe and 30 percent in emerging countries.
Both EBay and Amazon have made international expansion a centerpiece of their future sales growth strategies.
Balancing Act
Among the top 10 global Web properties, Microsoft's (Nasdaq: MSFT) MSN had the most balanced demographic breakdown, the research firm found.
"With the exception of the U.S. and Canada, the Internet population in every country is predominantly male," Goosey said. "The proportions of the audiences for these top properties are often heavily male, going well beyond the general male-to-female proportion of the overall population."
Nielsen//NetRatings based its findings on analysis of global Internet use during the month of November. In all, 29 countries, which generate more than 90 percent of all Internet use, were studied.
Spending Habits
In the United States, several studies have pointed to Internet use rising fastest among women as the Web overall becomes equally divided between the sexes. In fact, the Pew Internet & American Life Project reported earlier this month that 58 percent of all Internet purchases made during the 2001 holiday season were transacted by women.
Regardless of location, the ability to appeal to a wide range of potential users and buyers is important, Goosey said.
"A balanced audience is desirable," he said, because it shows that any given Web property has found a way to provide something for everyone. For large Internet properties and e-tailers focused on building community, he added, "Internet companies become like any other mass media — they must attract as broad an audience as possible in order to remain viable for the long term."
Meanwhile, Nielsen//NetRatings found little change among the top Internet sites, with Yahoo, MSN and AOL holding the top three spots again. Amazon, ranked seventh overall, was the top e-tail site, and EBay ranked ninth overall.