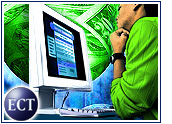 Will we ever understand the Web shopper?
Or is it possible that e-tailers, pundits and analysts have over-complicated the elusive online buyer? I say elusive because so far, the majority of Americans — indeed the majority of computer users — have not jumped on the e-commerce bandwagon.
Who are they? Are they middle Americans, blue collar types, executives, women, men — who?
I've been studying the industry for quite some time now and here's what I can say about who the Web shopper is. I don't know.
However, electronic commerce loves to study itself and little by little we're formulating a profile of the contemporary online shopper.
The problem is that while analysts are focused on who is shopping, e-tailers are consumed with operational issues. Fulfillment and shipping efficiency, inventory control, pricing strategies, marketing ploys and staying competitive are all crucial to longevity.
But without an understanding of who's shopping and what they want, even the best operations could easily crumble. A classic case of missing the trees while looking at the forest.
Timing is Everything
While not everyone in the industry has the same set of priorities, the one thing most agree on is the importance of timing. And right now is the time for e-tailers to figure out who's clicking and who's spending.
Economists maintain that a recession is not upon us, but the economy is not robust. The only way to survive is to maximize the relationship with existing customers and appeal to those most likely to buy.
What We Know
So, while I plead ignorance about the average online shopper, the experts are feeling more confident in their assessment. Here's what they have to say:
According to Nielsen//NetRatings, 49 percent of Internet surfers are male and 51 percent are female. Obviously the gender gap is now closed.
The ability to zoom in on product images for a close-up view is important to 44 percent of individuals surveyed by PriceWaterhouseCoopers. The same study found 77 percent use a search engine to assist them in their online shopping. Of those surveyed, 40 percent said they rely on product information provided online.
PWC found product reviews such as those commonly found on Amazon.com and other e-tail sites are important to only 24 percent of shoppers.
Schmoozing Average Joe
Unlike the early days of e-commerce, contemporary adult Internet users are beginning to look like the couple next door.
Insight Express reports a significant demographic shift from adventurous tech-heads to average Americans populating the online community. The average income among surfers runs somewhere between US$49,800 (female) to $62,700 (male), while adults in the 18 to 49 age range are overwhelmingly dominant online.
Clearly the Donald Trumps of the world are not signing on in droves, while the guy down the street from you probably is.
Breaking It Down
The broad implication is how important it is to appeal to middle America, while the more focused lesson has everything to do with defining market segments per product line and sales category.
Are BlueLight.com shoppers signed on for paper towels and school clothes, or for media maven Martha Stewart's bedding products?
What about more carefully focused sites, such as CDNow.com? Should they broaden their appeal and offer associated products, or stay true to the beat and simply sell sounds?
And when it comes to sites the public perceives as gender specific, such as Beauty.com, should marketing efforts be broadened to appeal to both sexes?
Is Amazon.com perceived as a book site, or as a one-stop everything shop?
Buck Stops Here
It's the one-stop shop that is destined for change.
Some years ago, those of us in media learned the importance of specializing. While e-tailers and media organizations are different animals, the public often behaves as a unit.
To the public, credibility is everything. So, while I do not even pretend to understand who is shopping online, it is clear that one Web site cannot serve all consumer needs. So much of online merchandising has to do with good old common sense.
Why would I, as a customer, go to the same Web site to purchase cough medicine and digital cameras?
Focus, Focus
Questions like that one are precisely what e-tailers are neglecting to ask themselves. In the past, brick-and-mortar stores might have been able to offer such a diversity of product, simply to save their customers a drive across town from one store to another.
Today, the electronic shopper drives with a keystroke.
Who's shopping online? The jury is still out on that one, but smart Web merchants will study the market and tailor their wares accordingly.
What do you think? Let's talk about it.

---
Note:
The opinions expressed by our columnists are their own and do not necessarily reflect the views of the E-Commerce Times or its management.
---