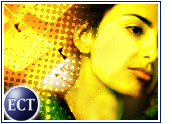 The Internet, once considered to be populated predominantly by men, is in reality an equal opportunity channel.
This year, for example, Nielsen//NetRatings reaffirmed other studies which have reported that more than half of North American Internet users are women. While the female online population has been steadily growing, according to NetRatings, 52 percent of surfers in this part of the world are now female.
The NetRatings study also concluded that women use the Net differently than men. Women spend less time online per session, but they sign on knowing what they want and sign off once they have found it, according to NetRatings.
How are marketers responding to this trend, and are they responding correctly?
Style Reigns
Here's one example. In August, Style.com unveiled a US$11 million media campaign designed to use powerful offline channels for women to draw attention to its online community.
With sophisticated print ads in such magazines as Vogue, Vanity Fair, The New Yorker and W, Style.com validated its presence in the New Economy. Touting a type of every-woman accessibility, the campaign relied on the slogan, "Runways Are Everywhere."
Typical of its attention-grabbing ads was a spot featuring a woman in a designer bathing suit and heels in a laundromat. But does having a splashy presence online automatically translate into profits for women-focused sites?
Is It Working?
Maybe, maybe not. Consider IVillage, an online community and content site for women. Last week, amid all the depressing news surrounding the overall economy, IVillage reported a 19 percent increase in Internet advertising sales in the third quarter from the second quarter.
That is not to say Easy Street cuts through IVillage. The site lost almost $6 million in the third quarter and made the decision early in its history to cut off its e-commerce arm. However, it doesn't hurt that a strategic merger with another site, Women.com, now allows the company to sell ads in conjunction with the powerful Hearst Corporation.
IVillage has also diversified its efforts to include a publishing company for new mothers, and a seminar and event company for working women.
Moving Forward
Then there's Gloss.com, the relaunched Estee Lauder Web site, this time in conjunction with Chanel and Clarins.
Wisely, among the thousands of beauty products the site will sell, are those from Clinique, Bobbi Brown, MAC and Prescriptives. These are all Lauder brands — a fact many consumers might not know. To online shoppers, the site may simply appear to be a handy one-stop shop for some of their favorite cosmetic lines.
Gloss.com was supposed to open its doors in June, but Estee Lauder decided to wait until everything was just right. "Everything" includes smart multichannel marketing, and Lauder's stated intention to run the site as a complementary venture to its already thriving offline retail industry.
Diversified holdings, creative marketing and a recognition of what many women are looking for — these may be the ingredients to take advantage of the female-driven Web market.
Name Recognition
Of course, at a time when selling online is still an iffy proposition, it doesn't hurt to put a powerful name behind the venture — and focus on community building and selling ad space instead of running a standalone e-commerce store.
Enter Oprah Winfrey and Oxygen.com. While the name might motivate a user to visit the Oxygen site (which uses AOL to power its online store), it's the information that she finds there that will determine if she sticks around or logs off.
Oxygen.com has created an online community inclusive of all women. Want to drop an e-mail to your legislator? How about joining a women's leadership forum? Perhaps you need a place to sound off about September 11th and its aftermath. It's all there.
So far I have not found a similar community online targeted at men. If I did, I'd be there. The bottom line is that there are ways to make sites for women more inclusive, more highly diversified — and ultimately more successful. And the sites that are still doing business in this space appear to giving women what they want.
What do you think? Let's talk about it.
---
Note:
The opinions expressed by our columnists are their own and do not necessarily reflect the views of the E-Commerce Times or its management.
---