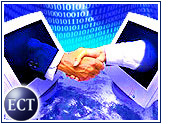 Just days after acknowledging that its existing Web hosting capabilities leave it vulnerable to outages, auction giant eBay (Nasdaq: EBAY) has tapped a division of tech titan Intel (Nasdaq: INTC) to provide additional hosting services.
Ebay spokesperson Kevin Pursglove told the E-Commerce Times that the Intel Online Services deal is part of a larger strategy to diversify eBay's hosting options.
"The arrangement with Intel will complement eBay's existing hosting facilities," Pursglove said. "This means there [are] now additional and diversified hosting capabilities, ensuring eBay users of continued site access."
Pursglove said eBay's 42 million worldwide users will not experience disruptions as the Intel Online hosting program goes into effect.
Always Running
"By the nature of the business, keeping its site up and running 24/7 is more important to eBay than it is to, say, Amazon," Morningstar.com analyst David Kathman told the E-Commerce Times. "If eBay's site goes down, it disrupts a lot of auctions, which have to be rescheduled or cancelled."
Kathman credited eBay with keeping its site running since a spate of widely publicized outages, most notably in 1999.
"Still, if they want to keep growing they'll have to constantly be upgrading that infrastructure, and diversifying their hosting seems to be a good step in that direction," he added. "The more spread out their servers are, the less chance there is for a single disruption to take down the whole site."
Customer Win
Intel spokesperson Erica Fields told the E-Commerce Times that eBay users now have "the assurance of continued site availability."
Intel Online already hosts Web pages for other e-commerce firms, including Wine.com, Fields noted. The division also hosts a Beatles Web site that is part of a UK partnership between MSN and record label EMI.
Financial terms of the eBay deal were not disclosed.
Fixing a Hole
The move came about a week after eBay said in its annual report filed with the U.S. Securities and Exchange Commission (SEC) that all its Web hosting facilities are concentrated in three West Coast locations, and are operated by Exodus Communications, Qwest and Sprint.
"The occurrence of a natural disaster, a decision to close a facility we are using without adequate notice for financial reasons, or other unanticipated problems at any of the facilities could result in lengthy interruptions in our services," the company told the SEC. "Interruptions in our service will reduce our net revenues and profits."
EBay has had its share of high-profile outages in the past, though for more than a year it has experienced only minor glitches. After suffering a series of shutdowns in 1999, the auction house undertook a massive hardware upgrade, only to endure additional outages early in 2001.
Kathman noted that eBay has kept its site running almost continuously since then.
"EBay has boasted recently of 99.9 percent uptime, which is pretty good when you consider that they generate 300 million page views a day," he said.
Still, the auction giant admitted that downtime is a continuing concern.
"We have experienced periodic system interruptions, which we believe will continue to occur from time to time," eBay's SEC filing said. "Any failure to expand or upgrade our systems at least as fast as the growth in demand for capacity could cause the website to become unstable and possibly cease to operate for periods of time. Unscheduled downtime could harm our business."