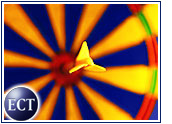 One year ago, Goldman Sachs released a report highlighting 10 well-known e-tailers that were facing a cash crunch and likely to fail within a year, unless they got an infusion of funding or a new business model.
As it turns out, Goldman Sachs was half right with its dot-com "Death Watch," which was based on the securities firm's analysis of the cash positions and burn rates of 32 publicly traded online retailers. Five of the companies are still around to talk about beating the list, while five are gone or virtually gone.
"A continued shakeout will likely strengthen positions for leadership companies and decrease competitive clutter," Goldman Sachs analyst Anthony Noto said in the year-ago report. Noto added that raising money was going to be "challenging" for companies with "unproven business models" and firms that were not leaders in their market categories.
Of the 10 companies the firm placed on its Death Watch, three — Mothernature.com, PlanetRx (Nasdaq: PLRX.OB) and Pets.com — have since shut down their sites, while two others — Autoweb (Nasdaq: AWEB) and HomeGrocer — were bought out by competitors.
The other five — Drugstore (Nasdaq: DSCM), Autobytel (Nasdaq: ABTL), Peapod (Nasdaq: PPOD), Buy.com (Nasdaq: BUYX) and Beyond.com (Nasdaq: BYND) — are still in business and looking to post profits.
The question is, how did the companies that beat the e-commerce Death Watch manage to do so?
Net Pharmacy Fallout
Drugstore.com has had the high-powered backing of Amazon.com since early 1999, but Goldman Sachs apparently did not foresee how important that alliance would be in the online pharmacy sector.
Even so, Goldman Sachs correctly pegged the demise of Drugstore.com rival PlanetRx.com, which closed its virtual doors in March and referred its customers to Drugstore.com.
According to Drugstore.com chief executive officer Kal Raman — who joined the company in 1998 and took the CEO reins from Peter Neupert this past April — Drugstore.com has been "very different from PlanetRx from the beginning."
Raman told the E-Commerce Times that Drugstore.com's focus on gross margin, customer acquisition costs and operating efficiency is the reason it has survived, and that its appearance on doom-and-gloom lists is not important.
"People bring [such lists] to me, but I really don't worry about it," Raman said.
Virtual Car Crash
Consolidation has been the name of the game for those in the online auto sales market that were on the Goldman Sachs Death Watch.
Although not officially gone yet, Autoweb is about to drive off the Information Superhighway. In April, the struggling auto e-tailer was purchased by competitor Autobytel in a stock deal worth about US$15 million. The deal was a lifeline for Autoweb, which got a delisting notice from the Nasdaq in early March and had been restructuring its marketing deals to save money.
Autobytel vice president for corporate development Dennis Benner told the E-Commerce Times that the inclusion of Autoweb and Autobytel on a dot-com shakeout list a year ago was "not surprising."
When asked why Autobytel beat the list, and Autoweb did not, Benner commented that Autobytel started out by "focusing on Old Economy key metrics, like the number of customers, revenue, cost of revenue and expense control." Benner also said Autoweb invested in portal marketing while Autobytel decided not to spend big on portal deals.
Grocers Out of Gas?
As for the grocer sector, Goldman Sachs predicted HomeGrocer and Peapod would fail, absent a cash infusion. While Peapod is not dead yet, analysts are watching to see if the multimillion-dollar rescue of the Internet delivery service by grocery giant Royal Ahold will bear any fruit.
According to a study released in May by Jupiter Research, the short-term outlook for online grocers has dimmed considerably, but the long-range outlook remains promising.
Both Webvan (Nasdaq: WBVN), which recently completed its acquisition of HomeGrocer, and Peapod have cut workers and departed markets as they continue to battle for profits. Webvan itself has been fighting for its online life, with its stock stuck below 50 cents per share since February.
Buy and Beyond
Two other members of the Death Watch gang, Buy.com and Beyond.com, are hanging on, and not without a struggle. Buy.com reported in early May that its first-quarter revenue plummeted 40 percent from the year-ago period and warned that its second-quarter revenue would see an even deeper decline.
Like other death-watch listees, Beyond.com has narrowly escaped delisting from the Nasdaq. Signaling that Goldman Sachs was right about the ongoing cash crunch, Beyond.com recently said that it got a firm commitment from a vendor for a promissory note of $12 million, which Beyond.com hopes will provide the capital its needs to get through 2001.
Beyond.com vice president and chief financial officer Curtis Cluff told the E-Commerce Times that there was plenty of skepticism about the Beyond.com business model a year ago, but that by then the company had already started to morph from an e-commerce software vendor to a company that builds and manages online stores for others.
"Unlike some companies — probably some on that list — that did not have a profitable business model to fall back on, we did," Cluff said.