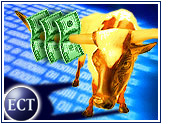 Shares of some key e-commerce companies rose Friday, even as economic reports showed evidence of a slump.
A U.S. Department of Commerce report showed that the economy grew at a rate of just 0.3 percent in the second quarter, even before the terrorist attacks on the United States brought many businesses to a halt.
News reports also said that the University of Michigan's consumer sentiment index for September fell from a month earlier, though not as much as some had thought it would.
Some investors saw a silver lining in the clouds, sending the Nasdaq, Dow Jones Industrial Average and Standard & Poor's 500 stock index higher in morning trading. The reports, analysts said, could have been even worse.
Overall, e-commerce issues posted strong gains Friday. After dipping in morning trading, eBay (Nasdaq: EBAY) closed up 64 cents, at US$45.75. eBay benefited from news that Robertson Stephens analyst Lauren Cooks Levitan was repeating a strong buy rating on the Internet auctioneer.
Priceline.com (Nasdaq: PCLN) climbed for a second day, closing up 41 cents, or 12.1 percent, to $3.79, after a Hong Kong investment group boosted its stake.
On the other hand, Amazon.com (Nasdaq: AMZN) was in positive territory in the morning before finishing down 23 cents, at $5.97.
Looking Ahead
Art Hogan, chief market analyst at Jefferies & Co., thinks that e-tail stocks — "those that are still in existence" — are headed higher.
"We're pretty confident that the consumer gets back in the marketplace sooner rather than later," Hogan told the E-Commerce Times. "Consumer confidence obviously has been beaten up, but we don't think it's a long-term phenomenon. By the end of this year, consumers will get out, once the initial shock (of September 11th) is over."
Though the terrorist attacks on New York City and Washington, D.C. "basically took September out of everybody's ledger," said Hogan, "we don't necessarily think this is going to force the economy into a recession that's long-lasting."
Holiday Greetings
Hogan said he remains "very, very bullish" about holiday sales, and expects the spending rebound to continue into the first quarter of next year.
Jefferies carries buy recommendations on eBay and Priceline. Hogan added that the firm's retail analyst takes e-commerce operations into account when valuing traditional, brick-and-mortar retails.
"You can't make a separation anymore between the e-commerce world and the brick-and-mortar world," Hogan said.
Autobytel, Homestore Gain
Among other e-tail issues, Autobytel (Nasdaq: ABTL) was up 32 cents — or 44.4 percent — to $1.04. The rise came the day after the Nasdaq said it will suspend its minimum $1-per-share requirement for listing on the exchange, in an attempt to provide market stability while companies grapple with the effects of the September 11th attacks.
Online real-estate company Homestore.com (Nasdaq: HOMS), was up 61 cents at $7.65, following reports that Robertson Stephens reportedly repeated a strong buy rating on the stock. Two other analysts lowered their ratings on Homestore earlier this week.
Homestore was down 52.1 percent from its $15.99 close on September 10th, the day before the attacks.