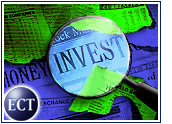 As the stock price of Priceline.com (Nasdaq: PCLN) slumped this week, a Hong Kong investment group that is the largest outside shareholder in the online travel site followed through on a promise to boost its ownership stake.
According to a filing with the U.S. Securities and Exchange Commission, Cheung Kong (Holdings) and Hutchison Whampoa each bought more than 2 million shares of Priceline stock.
The two groups, both of which are controlled by Asian business tycoon Li Ka-Shing, bought the Priceline shares for an average of US$2.36 each. In all, Li now controls about 29 percent of Priceline, according to the SEC filing.
Fast Response
The stock purchase delivered the desired effect almost immediately. On Thursday, Priceline shares rose more than 10 percent. Shares were up marginally in early trading Friday as well.
Li's companies followed the example of Richard Braddock, Priceline's chairman and chief executive officer, who said late last week that he would abandon plans to sell shares and instead exercise options to buy an additional 750,000 shares.
At the same time, Priceline revised a shareholder's rights document to give Li's companies the ability to boost their stake in the name-your-price e-tailer to as much as 37.5 percent.
Fallout from Attacks
Priceline shares were among those hit hard by investors in the wake of the September 11th terrorist attacks on the U.S.
Concerns about consumer attitudes toward air travel prompted short-term drops in many online travel stocks.Priceline stock closed at $5 on September 10th and, at one point during the first day of trading after the attacks, was down 50 percent.
The stock took another dip a few days later when Priceline joined other Internet travel companies in warning that third-quarter results would be hurt by the attacks by lower bookings and requested refunds.
Turnaround Erased
Before September 11th, Priceline had been writing one of the Internet's best turnaround stories to date.
The Norwalk, Connecticut-based e-tailer's stock price sunk to nearly $1 late last year, as expansion plans were shelved, services using the name-your-price model for groceries, gasoline and other products were dropped, and jobs were cut.
However, shares made their way back to the $10 level after Priceline broke through the profit barrier in the second quarter and made upbeat comments about its ability to maintain the performance for the rest of the year.
Travelocity Downgrade
In related news, analyst firm Robertson Stephens reportedly downgraded Travelocity (Nasdaq: TVLY) from market perform to buy and reduced earnings estimates for the Internet travel company.
The downgrade was reportedly based on "limited visibility" as to near-term prospects for the online travel industry and for Travelocity. According to reports, Robertson Stephens believes Travelocity is exposed to substantial risk, including a lengthy recovery period and the possibility of another disruption of the travel industry.