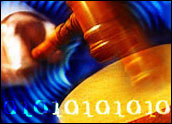 Auction sites are dominating the 2000 online holiday shopping season, according toa report issued by Media Metrix.
For the two weeks ended November 26th and December 3rd, Web auction giant eBay averaged 60 percent more unique daily visitors than the Internet's top retail site Amazon.com, the report said.
eBay had 2.6 million average daily unique visitors for theweek ended December 3rd, while Amazon.com drew 1.6 million.
In addition, daily visits to online auctions are up 62 percent over the same week last year — with visits to dominant player eBay up a staggering 89 percent. In contrast, Amazon saw its traffic grow by nearly 53 percent over the same week in 1999.
"There's the popular notion that Amazon is the kingof online shopping destinations, but there's another shopping destinationthat is drawing critical mass, eBay," Media Metrix researcher Max Kalehofftold the E-Commerce Times.
Nothing New?
Although Amazon is behind eBay in the number of unique daily visitors, the e-tailer is having a robust holiday season. In recent reports, Amazon.com said 25 million units have already been ordered from itssite since November 2nd. In contrast, last year more than 20 million items were shippedfrom Amazon between November 10th and December 31st.
"Overall the [business-to-consumer] retail category is a much bigger genrethan auctions, but the auctions are seeing significant increases thanksprimarily to eBay," Kalehoff said.
Even so, the visitor numbers released this year tell a familiar story: eBay also led Amazon in the number of unique visitors over same holiday period last year. For the week ended December 5, 1999, Amazon had 1.1 million unique visitors, as compared to eBay's 1.4 million.
"Theres been a lot of talk in the industry about the lack of blockbustertoys or gifts this season, so consumers are looking for different places tofind unique, hard to find gifts. eBay offers consumers diverse goods andflexible pricing," Kalehoff said.
Other Net Auctions
Without a doubt, the auction category was overwhelmingly dominated by eBay. Other auction sites on the Web were not even within range of eBay's 2.6 million average daily unique visitors.
AuctionWatch.com and UBid.com posted 218,000 and 184,000 unique dailyvisitors respectively.
The new numbers did not take into consideration major portals such asYahoo.com or Excite.com, which also have auction capabilities on their sites.
"eBay has demonstrated it's a viable model for others to follow," saidKalehoff. "It will be interesting to watch as the big portals get more into[the auction space]."