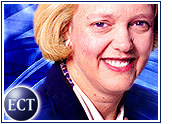 eBay (Nasdaq: EBAY) and the Walt Disney Internet Group (NYSE: DIG) launched a co-branded auction site Monday called Disney Auctions, as part of an agreement between the two companies that will see the mammoth auction site offer ESPN and ABC merchandise in the future.
The Disney site will feature memorabilia and new products from its theme parks, television shows, books and movies, representing the first time Disney has offered its own collectibles for sale online.
Disney first turned to eBay in February of this year after the entertainment giant attempted to launch its own auction site through its Go.com portal. eBay set up an auction site for the Go.com community and said at the time it would eventually expand the partnership to cover all of Disney's online media.
Feedback for Disney
The new site will operate like other eBay auctions, with items posted for a set length of time and buyers afforded the opportunity to provide feedback on Disney after the sale is complete.
Walt Disney Internet Group President Steve Wadsworth said the site will offer collectors a way to locate and purchase hard-to-find Disney items. Partnering with eBay will help Disney create "a world class online trading environment as well as a viable new revenue stream," he added.
Blend of Old and New
The site was launched quietly over the weekend and featured dozens of items from across the Disney catalog. Offerings included new clothing and toy products based on themes from Disney Channel cartoons and shows, as well as such collectibles as the marquee that stood over Disneyland when the theme park opened in 1955. Original animation cels from Disney cartoons were also made available.
While the financial deal struck between the two companies has not been detailed, eBay chief operating officer Brian Swette said the Disney site will drive traffic to eBay's main site, where dozens of Disney items are already being sold by individuals.
More to Come
The two companies are expected to roll out additional co-branded sites in the near future featuring products related to Disney's other media properties, such as the ABC network and ESPN.
eBay is the clear leader in the crowded online auction space — which generates about $55 billion (US$) in annual sales — and saw its first high-profile competitor, Auctions.com, fall victim to the dot-com shakeout when it folded its tent earlier this year.
Part of eBay's strategy has been to build its audience and product offerings through partnerships. eBay has previously launched a co-branded car-selling site with AutoTrader.com, an online ticket and life experience auction site with Ultimatebid.com, and a real estate category in association with zipRealty.com.