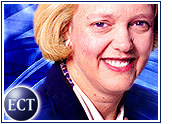 Dominant online auction site eBay (Nasdaq: EBAY) is talking with the major U.S. television networks about creating a show featuring the site's products and the people who put them up for auction, according to published reports.
eBay has confirmed that it is in talks with the networks, with ABC reportedly a frontrunner in the negotiations. Earlier this week, eBay launched a co-branded auction site with ABC's parent company, the Walt Disney Co.
Talks Under Way
The Wall Street Journal reported Wednesday that San Jose, California-based eBay has hired the William Morris Agency, a Los Angeles-based talent firm, for representation during negotiations. The show is being described as a "lifestyle show."
eBay spokesman Kevin Pursglove said the auction house is looking at "a lot of options available" and confirmed that talks are still in the "very, very early stages."
New Vehicle
While the show might focus on the lives of eBay participants, it would also be a vehicle for reaching a new audience of potential customers. Pursglove said details, such as whether viewers without Internet access would be able to bid via the telephone on items featured on the program, are still being worked out.
The most likely scenario, according to reports, is for a show to be developed either for daytime TV or for syndication, which would allow local stations to carry the program at a time of their choosing.
If the program becomes reality, it will place eBay at the forefront of the movement to converge the Web and television. Efforts to get TV viewers to carry their viewing interests onto the Internet, through interactive television offerings such as WebTV and AOLTV, have so far met with lukewarm response.
Hint of Things to Come
Despite the obstacles, Forrester Research analyst Eric Scheirer said the just-passed summer Olympics may have been a turning point, with the NBC network able to drive millions of viewers to its Web offerings for more information on the games.
"They really set the bar higher in terms of using the Web along with broadcasts," Scheirer said.
eBay ranks among the most-visited sites on the Web and has traditionally scored high on how long visitors spend on the site.
Additionally, eBay has proven to carry entertainment value itself, having drawn acute interest in the record-setting auction of a Honus Wagner baseball card and the frenzied, if dubious, auction of dot-com doom site F***edcompany.com.