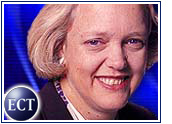 Online auction giant eBay (Nasdaq: EBAY) is denying that it is in talks to buy business-to-consumer auction house uBid, according to a report published Sunday.
The business news weekly Barron's reported that the two auction firms have held talks in recent months. While eBay refused to comment directly on the report, Reuters quoted an unnamed source from the company as saying that there are no such talks under way.
Chicago, Illinois-based uBid recently launched its own consumer-to-consumer auction product, called Auction Exchange, putting it in direct competition with eBay's main business line for the first time.
Up to that point, uBid had focused primarily on connecting consumers with businesses that had overstock, clearance and closeout items to sell at deep discounts. The company says it has about 1.5 million registered users.
Busy Days at CMGI
In February, high-tech incubator CMGI (Nasdaq: CMGI) paid more than US$400 million for uBid, which was founded in 1997. While the Andover, Massachusetts-based incubator is in the midst of a radical restructuring aimed at shedding all but the most profitable of its businesses, uBid has been cited as a major player in the firm's strategy.
In a recent forecast for 2001, CMGI cited strong growth in business-to-business sales at uBid, primarily in computer sales, and noted that business-to-consumer auctions are expected to grow faster than person-to-person sales and will eventually make up two-thirds of the $19 billion per year auction market.
Second Deal in Works
Meanwhile, a second newspaper reported Sunday that eBay is poised to offer $264 million to buy a controlling stake in Korea's largest online auction house, Internet Auction.
The Korea Economic Daily said that talks, which have been under way since August, are nearing a conclusion, with eBay demanding control of the firm's management as part of the deal.
Word of the potential deals comes as some analysts begin to question eBay's aggressive expansion forecasts, which call for 50 percent sustained growth. In fact, some say eBay's consumer-to-consumer auction platform may be approaching the point where maintaining past growth will be difficult.
Still More Deals
eBay has branched out, buying Half.com, a fixed-price used items reseller, for $350 million in May and striking an alliance with Buy.com for a co-branded entertainment retail site.
Monday, eBay announced a deal to offer auto insurance through its eBay Motors unit.
However, eBay has also continued to search for new ways to draw buyers and sellers to its main person-to-person site, striking a deal with Disney for a co-branded site earlier this year and buying upscale auction house Butterfield's late last year to provide more high-end items such as antiques and jewelry.