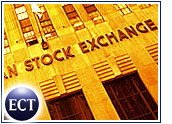 Online retailers ended mostly higher on Friday, as the holiday shoppingseason reportedly got off to a strong start. Press reports said shoppersclogged malls and e-tail Web sites on the day after Thanksgiving, known as"Black Friday" because brisk business is supposed to shift retailers'balance sheets to black ink from red.
Internet bellwether Amazon.com(Nasdaq: AMZN) gained 3 3/4 to 28 15/16 despite reports of a brief Web siteoutage.
Online toy seller eToys, Inc. (Nasdaq:ETYS) rose 19/32 to 1 13/16, and Internet auctioneer eBay Inc. (Nasdaq: EBAY) added 4 1/16 to 36 15/16.
Overall, analysts are looking for a strong fourth quarter for onlineretailers. A survey released last week by the National Retail Federation and Forrester Research found that e-tail sales rose in October.Additionally, the study said that toys, consumer electronics and computers led the gain.
"Online holiday shopping this season is trending well," wrote Goldman Sachse-tail analyst Anthony Noto in a research note accompanying his firm'slatest weekly e-tail survey, which echoed the finding of rising sales last month.
A report from the NPD Group released earlier in November predicted U.S.shoppers will spend some US$12.5 billion online before the end of the year, more than double last year's level.
Online retailers need to end the year on an up note, as stock pricesthis year are depressed. Many smaller e-tailers have gone out of businessbecause they failed to raise enough capital to continue operations.
The October statistics were encouraging, as growth during August andSeptember was flat.
Analysts suggest that consumers are ordering gifts online this year despite a spate of well-publicized glitches last year that resulted in late or missed deliveries and long waits for customer service. According to NPD, 95 percent of the shoppers who bought online last year will do so again. Most of those, the study found, will spend more this year than they did in 1999.
A study by Deloitte and Touche also found consumers were largely satisfiedwith their online shopping experiences last year.