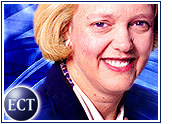 Internet auction giant eBay issued an apology to its customers on Monday for sporadic system and service outages that have hampered the site's functions for the past week.
In a message posted on its announcement board, the company said a database upgrade that began over the summer triggered the current batch of problems.
No Quick Fix
"It may seem like it should take a short time to implement these improvements," the note said, "but it is quite a task to perform installations and testing while keeping the existing site running. We conduct lots of tests to make sure that these transitions are as seamless as possible. Sometimes they are not. And for that, we are very sorry."
eBay also said it expects the upgrade to be completed "in about 7 to 10 days during which there may be periods of certain feature unavailability." The company added that its goal is to implement system changes and conduct related maintenance well in advance of the important upcoming holiday season.
Buyers and Sellers Irked
The explanation, however, did little to calm disgruntled customers who vented their frustrations on the message boards of eBay and other sites such as AuctionWatch.com.
Many sellers were especially upset that eBay refused to grant an extension to the auctions that were hit by the downtimes. To do so, the company said, would require it to "completely shut down the entire system for at least 30 minutes."
Currently, eBay's policy is to extend auctions and refund sellers' auction placement fees only when outages run for more than two hours. In light of the complaints, the company said it will be re-evaluating the policy.
Growing Pains
eBay began its system overhaul to improve reliability in the face of expected customer growth. As part of the upgrade, eBay said it is splitting its operations into different databases and systems, which will prevent the entire site from being taken down by a single glitch. The company said it is switching its database program from Oracle 7.3.4 to Oracle 8i.
During some peak traffic times, eBay has disabled certain features — including those on the personalized "My eBay" page and search functions — to ensure that its system remains operational. The temporary feature unavailability, however, made it more difficult for buyers to locate items.
"While all features are important, we try to temporarily disable those that have the most significant impact to system load and those that minimize impact to people's ability to find, view and bid on items," the company said.
Unscheduled Maintenance
Over the past week, eBay has also conducted a spate of unscheduled and preventive maintenance, taking the site out of commission for periods that ranged from 30 minutes to one hour.
Last year, eBay was crippled by a service outage that lasted almost 24 hours and caused alarm among investors, who sent the company's stock plummeting by more than 9 percent. Intermittent outages have repeatedly dogged eBay since then.
Although some customers have considered turning to the auction services of Amazon.com or Yahoo!, industry analysts concede that eBay has a virtual stranglehold on the Internet auction market.
Surge in Q3 Revenue
The apology from eBay comes on the heels of a strong earnings report released last week in which the company displayed revenues that were nearly twice what they were a year ago.
During the third quarter, eBay sold a total of $1.4 billion (US$) in goods, spiking revenue to $113.4 million. The online auction powerhouse also reported record results across several categories, including registered users, which rose from 7.7 million in September 1999 to almost 19 million this year, and the number of auctions hosted, which nearly doubled to 68.5 million.
Future Stability
At the time, eBay executives said that the earnings report underscored that its investments in technological enhancements would bolster the company's value.
"We have made significant progress in site stability and scalability," said company chief executive Meg Whitman. "Our site again performed above the 99 percent level this quarter."
Whitman added that the continued database upgrade has enabled eBay "to decrease site operation costs as a percentage of revenues even as all metrics and activity on the site have increased."