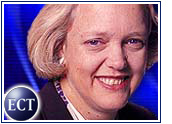 Internet bellwethereBay (Nasdaq: EBAY) rolled out a program Monday that will allow other firms to create their own applications based on the online auctioneer's technology.
The program, known as the eBay Application Program Interface (API), will initially be available to a limited number of the company's licensed partners and developers.
"By openly providing the tools that developers need to create applications based on eBay technology, we believe eBay will eventually be tightly woven into many existing sites as well as future e-commerce ventures," eBay chief operating officer Brian Swette said.
Swette added that the program "has tremendous potential to revolutionize the way people do business on eBay and increase the amount of business transacted on the site."
Expanding Presence
The new platform will allow eBay and its partners to expand more quickly to new devices like wireless phones and handheld computers, eBay said. The company added that its 19 million registered users will benefit as more vendors sign on to sell products online.
For those vendors, the program will "dramatically reduce" the cost of setting up the technical infrastructure and facilitate access to eBay users, the company said.
"There are already dozens of companies and hundreds of applications that rely on our site," eBay Technologies president Maynard Webb said. "Our new interface will provide much needed standardization."
eBay did not mention financial terms or projections for the venture. The Wall Street Journal said that software developers will pay the company enrollment fees, as well as monthly licensing fees.
Shares Fall on Downgrade
News of the new venture did not help eBay shares, which fell Monday following reports of an analyst downgrade and the progression of a lawsuit against the company. The stock closed at 34 1/2, down 8 15/16 or 21 percent.
Lehman Brothers analyst Holly Becker cut her rating on the company's stock to neutral from buy, citing concerns that the company's core business is slowing and new initiatives may be more costly and take longer than officials project.
While eBay "remains one of the most valuable franchises on the Internet dueto its highly profitable e-commerce platform," the company's "aggressive"projection for 2005 raises a "red flag," Becker wrote.
Roses and Thorns
eBay is predicting US$3 billion in revenue by 2005, a goal that would require the company to grow at 50 percent a year. The company expects to grow its overseas operations and to continue to look for strategic partnerships like deals it already has with America Online, Inc. (AOL) and The Walt Disney Company.
In the third quarter, eBay earned $19.1 million, or 7 cents per share, as revenue rose 98 percent to $113.4 million. A total of $1.4 billion in goods changed hands over the company's site.
Becker said she had viewed eBay as a potential takeover target in the eventof a slowdown in business, but in light of declining share prices of likelyacquirers AOL and Yahoo!, "this seems far less likely."
Separately, a judge in San Diego, California, reportedly gave class-action status to a suit that would hold eBay liable for fake merchandise sold over its site.