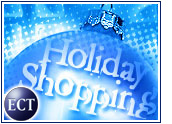 The number of online shoppers continued to boom during the second week in December, withbrick-and-click operations seeing the most traffic to their Web sites, according to the latest survey from measurement firm Nielsen//NetRatings.
Traditional retailers' Web sites have seen a 103 percent surge in trafficsince the beginning of the holiday shopping season, while pure-playe-tailers have seen growth of 77 percent, the survey found.
Brick-and-click sites "are tapping into their large, established customerbases and leveraging their enormous promotional budgets to drive millions ofshoppers online," said Sean Kaldor, vice president of e-commerce atNetRatings.
"While late to e-commerce, these sites are winning their fair share ofvisitors and dollars," Kaldor said.
Name Game
The NetRatings report echoes findings in a recentsurvey by Active Research, which also found brick-and-clickstores to be the biggest beneficiaries of this year's robust holiday e-shopping season.
According to Active Research, 45 percent of consumers buying over the Internet this year are making their first online purchases ever, with most saying that they chose to buy from stores that have a physical presence as well as a Web site.
Name recognition is also important to wary first-time buyers, the survey found.
Holiday Boom
Overall, the number of online shoppers in the second week of December jumped10 percent from the prior week, and is up 78 percent since the beginning ofthe holiday shopping season, Nielsen//NetRatings said.
Already, more people have done holiday shopping online this year than didso in last year's entire holiday season, even without the benefit of last year'ssteep discounts and promotions.
"Online holiday shopping got off to a late start this year, but hasrecovered with strong and consistent growth," said Kaldor.
"In the last five weeks, holiday shopping growth has consistently exceeded last year's results, and the trend indicates that there is at least one moreweek of favorable growth ahead," Kaldor added.
One-Day Record
By all accounts, e-tailers are seeing a surge in business this holidayseason. This past Monday (December 11th) set a one-day record fore-shopping, with US$200 million worth of products sold, according toBizRate.com.
Even so, Goldman Sachs and PC Data Online, which together conduct weeklyholiday e-shopping surveys, found that online sales tapered off slightly in theweek after Thanksgiving. Goldman still expects sales to be as much as doublelast year's levels.
Dressing Up
In the Nielsen//NetRatings survey, clothing was the No. 1 category foronline shoppers during the week, registering 24 percent growth over theprevious week and 130 percent over the week ended October 29th, before theholiday season began.
Books, music and videos also saw strong e-tail sales, rising 12 percent inthe week and 49 percent ahead of the October 29th week. Computer hardware andconsumer electronics were the next most popular, followed by specialty giftsand toys.