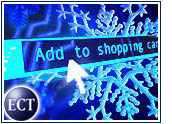 Forty-five percent of this holiday season's online shoppers are making their first purchases ever over the Internet, according to a survey released Monday by Active Research.
The study suggests that "click-and-mortar" retailers will benefit the most from the influx of these newbies, asone third of those buying online for the first time said they chose e-tailers based on name recognition and brick-and-mortar presence.
Brand names were less important to experienced online shoppers, with just 14 percent giving name recognition top ranking, and 18 percent saying product availability was more important.
"One might surmise that experienced shoppers have learned from last year's delivery glitches, not wanting Santa to be left holding an empty bag again," Active Research said.
Senior Spending
One-third of the 1,135 online shoppers polled by the Burlingame, California-based firm rated price as the most important factor in selecting an online retailer.
While 25-to-34 year-olds will shop more online this holiday season than any other age group, Americans 55 and older are likely to spend more — an average of US$521 per person — according to the study, which was completed December 6th.
Overall, shoppers expect to spend an average of $388 online this holiday season, compared with $607 in brick-and-mortar stores, Active Research said.
Heavy Shoppers Weigh In
Those calling themselves "heavy" online shoppers said they expect to spend an average of $1,045 online this year, according to the survey. The biggest shopping concern for 34 percent of this group was price, while 18 percent said that product availability was the biggest factor in making a decision.
In addition to the 45 percent of e-shoppers who are newbies, and who are by definition spending more online this year than last, 34 percent of those surveyed are returning customers who plan to spend more online for the 2000 holidays, and 15 percent said they expect to spend the same amount as in 1999. Six percent said they planned to decrease online spending for this year's holidays.
Other holiday studies this year have found that consumers are buying more of their gifts online this year, despite reports of glitches and security concerns.
Online Retail Gaining
A report from Goldman Sachs and PC Data Online found that U.S. holiday shoppers, while planning to buy most of their gifts at brick-and-mortar stores, nevertheless intend to do more shopping online this season than they did last year.
The Goldman/PC Data survey found that online shoppers intend to buy an average of 47 percent of this year's holiday gifts at traditional stores, 38 percent over the Internet and the remaining 15 percent through catalogs.
Last year at this time, shoppers said they would buy an average of 62 percent of their gifts in stores and just 25 percent online. The trend, said PC Data Internet analyst Cameron Meierhoefer, shows that "slowly but surely, a migration toward Web shopping is occurring."