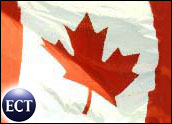 According to a study released Monday by business services firm Ernst & Young, Canadian consumers plan to spend 14 percent of their holiday shopping funds online — a 100 percent increase over last year's level but still lessthan half as much as their American counterparts.
The report also said that Canadian consumers spent roughly US$890 over thepast 12 months on Internet purchases, appreciably less than the worldwideaverage of $1,100.
However, researchers said that Canadian e-tailers havereason be to optimistic. Three-quarters of Canadian Internet shopperssurveyed for the report said they plan to make at least some of theirholiday purchases online this year, spiking from roughly 49 percent in 1999.
Conversely, only 25 percent said they have no plans to conduct onlinetransactions this season, a significant drop from last year's level of 52percent.
"This will be a very interesting online holiday season — strong across abroader range of products and very promotional for most retailers," said BenBabcock, a partner with Ernst & Young's corporate finance, retail andconsumer products practice.
Brick-and-Clicks Rule
The Ernst & Young study is the latest in a string of holiday e-shoppingreports that point to the growing influence of multi-channel players in thehighly competitive e-tail arena.
The firm found that this emerging trend reflects the shift away from pure-playsand toward companies that already have established a physical presence andbrand before launching Internet arms.
"We see the e-winners as those companies who are implementing a multi-channelstrategy so customers see a consistent and integrated brand at the cornerstore or the online mall," said Babcock.
Among those surveyed, Sears' Canadian site was ranked the most popularonline retailer, followed by Amazon.com. Researchers also said that otherCanadian-based multi-channel sites, such as FutureShop.ca and Staples.ca, willclaim a larger share of online purchases leading into 2001.
E-tail Advantages
The primary driver of e-shopping in Canada during the holidays is a consumerdesire to steer clear of the brick-and-mortar retail bustle, said thereport. In fact, 62 percent of those surveyed said they do not like dealingwith the rush of crowds in stores and malls. In addition, 60 percent saidthe ability to shop at more convenient hours online was a key advantage ofbuying via the Web.
Other reasons cited for making purchases over the Internet included savingtime and less driving.
Notably, the study found that cost is not as significant a factor forCanadian online consumers as others surveyed globally, with only 17 percentsaying they buy online in order to save money.
However, researchers advised e-tailers that the best recipe for success willbe to meet demand and sidestep glitches, which will drive consumers away."To win in online retailing, companies must excel in meeting or exceedingcustomer expectations and improving the customer relationship throughworld-class operations and merchandising," said Babcock.
Toys Gain Ground
This holiday season, online consumers will also shop in broader categoriesthan before, researchers said.
While books, computers and music remain the perennial purchasing favoritesamong e-shoppers, the study noted that this year toy purchases – already atop holiday category in the U.S. — are gaining ground.
Nearly one in five of those surveyed said they plan on buying a toy online,surpassing the 13 percent who will purchase videos.
About the Study
As part of its fourth annual Global Internet Retailing report, Ernst & Youngsurveyed more than 4,500 online consumers in 12 countries about their e-tailholiday habits and history.
The study included over 470 respondents in Canada who said they have madepurchases via the Web over the past 12 months.