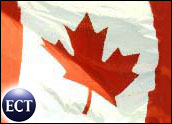 Canadian Tire, the venerable superstore that sells automotive products, sporting goods and other consumer goods, has launched its long-awaited e-commerce site to much fanfare — and criticism.
The company, which has been in business for 78 years, reportedly spent as much as US$23 million researching and developing its Web site. However, the firmanticipates that sales via the Internet site could eventually grow to $128 million.
Downplaying suggestions that Canadian Tire was late to the e-commerce game, president and chief executive officer Wayne Sales told reporters, "We think we're getting in early. We thought it was more important to get it right than to be first."
However, despite Canadian Tire's best efforts, the site was plagued with technical problems during its first day in operation, including lack of access, error messages, and lengthy delays.
From the Ground Up
Canadian Tire said it plans to make the online shopping experience at its new site similar to an offline shopping experience in one of its 438 stores and to draw on its existing customer base significantly.
According to Sales, Canadian Tire is "very well positioned to take a leadership position in serving Canadians online."
Sales pointed to the company's 260,000 loyal e-mail newsletter subscribers and the "enormous consumer trust" in the Canadian Tire brand as positive indicators for its e-commerce effort.
A study released last month by American Express found that 80 percent of online consumers ranked trust in the brand name of the product and the retailer among the most important factors in online shopping.
Real World Design
To help customers feel comfortable in its online store, Canadian Tire has laid out its Web site similar to an offline store and included lifestyle categories such as "Around the House," "Workshop" and "Automotive." Shoppers can also browse by gift idea categories and price.
The company said that purchases made online are returnable at any of its retail stores and that the site offers online order tracking — options that consumers have said are important. The company has also expanded its customer rewards program, dubbed "Canadian Tire Money," to include purchases at its online store.
Initially there will be 5,500 items available for purchase at the Canadian Tire Web site, but that number will eventually expand to 20,000, the company said.
E-Commerce Footsteps
There are signs that Canadian e-commerce is emerging from the shadow cast by U.S. dominance of North American e-commerce.
A report released earlier this year by consulting group J.C. Williams and the Angus Reid Group showed that in one year, the number of Canadian online shoppers buying from Canadian sites has more than doubled from 28 percent to 58 percent, while Canadians shopping at U.S. sites has dropped from 62 percent to 37 percent.
The Canadian Tire launch follows in the footsteps of another Canadian retailer's entry into the world of e-commerce.In July, the country's oldest department store, Hudson's Bay, announced a joint venture to add an online component to its retail offerings. The 330 year-old company, teamed with Microsoft Canada Co., IBM Canada Ltd. and Oracle Corp. to make its move into the new economy.