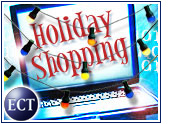 Online retailers sold more than US$200 million worth of products on December 11th, establishing a new single-day sales record, Web measurement firm BizRate.com said Tuesday.
The Los Angeles-based comparison shopping service predicted that the combined sales total for Monday, Tuesday and Wednesday of this week will amount to nearly $600 million in sales. Additionally, total sales for the week are predicted to reach as much as $1.21 billion.
"We expect order volumes to remain robust through mid-December," BizRate chief executive officer Chuck Davis said. "Clearly consumers are embracing the benefits of online shopping."
Early Peak
According to BizRate's figures, the busiest single online shopping day of the 1999 holiday season came on December 13th, when e-tailers recorded $177 million in sales. That figure was surpassed on Monday, with more than $222 million in total sales.
In both cases, the peak sales day was a Monday. Davis said that fact seems to back up a recent report from Nielsen//NetRatings showing that nearly half of all online shopping this holiday season is being done from the workplace.
Lessons Learned
Bad experiences with shipping delays last year may have prompted some shoppers to complete their sales a few days earlier than in the past, Davis said.
The shipping problem grew so severe in 1999 that seven online retailers, including ToysRUs.com and CDNow, were fined by the Federal Trade Commission (FTC) for promising deliveries they could not complete.
BizRate estimated that as many as one of every four holiday purchases made during the holiday crunch last year arrived late.
Strong Week
"Shoppers are more savvy this year, and many are ordering earlier to ensure their packages arrive on time," Davis said, adding that attention will now turn to whether e-tailers can meet the crunch of demand expected this week.
However, while the busiest part of the season may be over, shopping will not stop at the end of the week. BizRate's own survey of shoppers predicted that 52 percent will not have completed their shopping by December 15th.
Another survey released this week by Goldman Sachs and PC Data found that this year, consumers were spreading their holiday purchases over several weeks instead of rushing online at the beginning of December to complete their shopping.
Home and Garden Grows
Among specific e-tail domains, BizRate said that home and garden sales saw the biggest jump in the first two weeks following Thanksgiving, rising 221 percent from the same period last year. Toys were up 153 percent and food and wine grew 58 percent.
The computers, software and consumer electronics category, which had been expected to record strong growth, is up only 24 percent over 1999.
Plenty of Optimism
Many signs point to a banner holiday season for e- tailers. During Thanksgiving week, Americans spent $1.3 billion online, an increase of 140 percent over the same period last year, according to a survey released last week by Goldman Sachs and PC Data.
Holiday spending predictions for 2000 have ranged from the Yankee Group's estimate of $9 billion to forecasts of $12.5 billion from both eMarketer and the NPD Group. Jupiter Communications (now Jupiter Research) pegged the number at $11.6 billion.