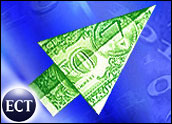 Online retail sales reached unprecedented levels in November, according to a pair of reports released Thursday.
One study, the latest National Retail Foundation (NRF)/Forrester Research Retail Index, found that total online spending increased to US$6.4 billion in November, up from $4.4 billion in October.
"Last month, online sales alone exceeded combined sales in November and December 1999 by more than 25 percent — or $1.4 billion," NRF vice president of Internet retailing Scott Silverman said. "Even if December 2000 is equal to or even slightly lower than November, we can still expect online spending in 2000 to more than double last year's performance."
Although the U.S. Bancorp Piper Jaffray and Harris Interactive "e-Commerce Scorecard" was more conservative, estimating that online spending reached $4.8 billion during November, that number did represent an increase of 29 percent over that study's report of October online sales.
The November numbers were "really strong," Harris Interactive director of e-commerce research Lori Iventosch-James told the E-Commerce Times. "They were right about on target, maybe even a little bit above target, and we in fact upgraded our estimates for December based on the strong November."
In the NRF/Forrester index, shoppers spent an average of $285 per person. In the e-Commerce Scorecard, per person spending was $150 — a 25 percent increase over the study's October figure.
Winning E-tailers
Internet superpower Amazon was the No. 1 e-tailer in November, according to the e-Commerce Scorecard. The survey found that 21.2 percent of consumers who made a purchase online bought something from Amazon, up from 17.2 percent in October.
When asked to name the Internet retailer that first comes to mind, more people (30.4 percent) named Amazon than any other site.
eBay was second in attracting buyers and brand recognition. The e-Commerce Scorecard found that 14.7 percent of people made purchases from eBay and 17.4 percent said eBay was the first e-tailer that came to mind.
Yahoo! was third in name recognition, with 6 percent of people naming the portal as the first e-tailer that came to mind. BarnesandNoble.com came in fourth with a 5 percent share.
What's Selling
Both reports found that the toy category showed the most dramatic growth in November. The e-Commerce Scorecard estimated that toy sales revenue grew 301 percent, from $92 million in October to $277 million. The NRF/Forrester Research Index said that online sales of toys and video games grew by 231 percent, from $203 million in October to $673 million.
According to the e-Commerce Scorecard, other online winners in November were apparel, which grew 72 percent from October to $529 million; electronics, which was up 63 percent to $235 million; and computer hardware, which improved 29 percent to $421 million.
The NRF/Forrester index found strong growth in sporting goods, which rose 124 percent from October to $152 million; apparel, up 108 percent to $525 million; food and beverages, up 93 percent to $305 million; books, up 87 percent to $383 million; and music, up 76 percent to $257 million.
Holiday Slowdown
"For the month of November, we have seen online retailers benefiting greatly from the holiday demand," said Tony Gikas, vice president and senior research analyst for U.S. Bancorp Piper Jaffray. "We expect this momentum to continue through the second week of December, but slow down somewhat during the week before Christmas."
There are signs that Gikas' prediction of a pre-holiday slowdown is already occurring. A report released earlier this week by Goldman Sachs and PC Data Online revealed that e-tail sales saw a "significant, unanticipated deterioration" in the week ended December 10th.
The report went on to say that e-tail sales were higher than 1999 levels, but that the gains were less than had been hoped for.