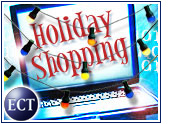 Approximately 27 million consumers who had planned in October to purchase holiday gifts on the Internet have since changed their mind, according to a study released Thursday by the Boston Consulting Group and Harris Interactive.
Research conducted in October found that 70 percent of Internet users planned to do some part of their holiday shopping over the Internet, but that a significant portion of that group are not going to follow through.
The number of people buying online this holiday season is up, and buyers are spending an average of 38 percent more on the Internet this year compared to last, the study found.
As of December 11th, the average online holiday shopper had bought six holiday gifts over the Internet, worth a total of US$234 — up from $170 last year.
Overall, the number of holiday e-shoppers has grown 23 percent from the same time last year, with 40 percent of the online population having already purchased gifts online.
However, the new study suggests that those numbers could be stronger.
Too Many Fence-Sitters
"While online retailers have been able to encourage individual consumers to do more holiday shopping online, there are still far too many consumers sitting on the fence," said Michael Silverstein, head of Boston Consulting's consumer practice.
"These are the consumers who won't believe in online retailing as a reliable alternative to traditional shopping during the holiday season until they try it for themselves, or a friend or relative convinces them otherwise," Silverstein said. "Word of mouth drives usage. So far, consumers are telling each other, it's a mixed bag."
The report added that e-tailers counting on last-minute buyers to bring up sales numbers need to provide "a superior online purchasing experience."
Satisfaction is Key
While 79 percent of shoppers surveyed said that they were either satisfied or very satisfied, and 90 percent said product selection online was as good as or better than at brick-and-mortar stores, 21 percent said they had encountered problems.
More than 10 percent of gifts ordered online were received after the scheduled delivery date, the survey found.
"Despite nagging problems with delivery, consumer satisfaction remains quite high," Harris Interactive director of e-commerce research Lori Iventosch-James said. "Only 3 percent of consumers have expressed a clear dissatisfaction with their online holiday shopping experience."
As the holiday season draws to a close, however, e-tailers "have to make a concerted effort to ensure that all their fulfillment systems perform flawlessly as consumers await their last-minute orders," said Iventosch-James. "This will be the true test for many online retailers."
Growing Expectations
Next year, the researchers said, e-tailers will have to do more to meet consumers' rising expectations.
"The online retail market in 2001 will be even more exacting for online retailers," Boston Consulting vice president Peter Stanger said.
"Consumers' expectations are continuing to rise," Stanger added. "If online leaders can achieve a level of consistency of service and reliability that leading catalogers have achieved, there will be a boost in volume, confidence and value. Too many times, out-of-stocks, unreliable fulfillment and difficult transaction closings have made the novice wary of time-critical purchases."
Boston Consulting and Harris Interactive conducted their survey online between December 8th and December 11th. The researchers polled 1,930 U.S. Internet users over the age of 18 and weighted the results to reflect the U.S. online population.