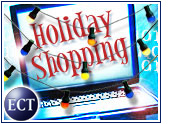 Two new studies indicate that consumers remain wary of making last-minute holiday purchases online, although the reports disagree about exactly when this year's holiday shopping reached its zenith.
According to the Nielsen//NetRatings Holiday E-Commerce Index, released Thursday, traffic to e-tailers in the week ended December 17th (the fourth week after Thanksgiving) was down 7 percent from the peak of 68.4 million unique visitors reached in Week 3.
Meanwhile, a Media Metrix report, released Friday, found that retail Web sites saw 33.8 million unique visitors during Week 4, down 5.2 percent from a peak of 35.6 million set in Week 2.
Media Metrix said that last year, traffic peaked during the third shopping week, indicating that shoppers were more cautious about making late holiday purchases online in 2000 than in 1999.
Overall, traffic for the week ended December 17th was 24.6 percent higher than in the same week last year, Media Metrix said. The Media Metrix index measures home and work visitors at close to 400 retail sites.
Fear of Delays
"Last year, online shoppers increasingly flocked to retail sites through the final days of the holiday season," Media Metrix measurement analyst Anne Rickert said. "This year, online shopping is up, but many who might have been disappointed with or fearful of late-arriving goods last year appear to have shopped earlier."
Sean Kaldor, vice president of e-commerce at NetRatings, also said that efforts by e-tailers to convince shoppers that they could deliver last-minute purchases seemed to have fallen short.
"Once again, online holiday shopping peaked a full 14 days before Christmas," Kaldor said. "We had anticipated that e-tailer assurances of on-time delivery and ample product supply would encourage more shoppers to go online in this last week."
While e-tailers had been assuring customers they could deliver on even late purchases — and were backed up by a report from Andersen Consulting predicting a 92 percent success rate for orders — many also used discounts and free shipping offers to urge shoppers to order early.
Amazon No. 1
The No. 1 site in the new Media Metrix report was Amazon.com, which saw an average of 1.7 million unique visitors each day during the week, up 47.3 percent from the same week last year.
Customer loyalty siteMyPoints.com was the second most visited site during the week, according to Media Metrix, with an average of 1.52 million unique visitors per day — up 40.1 percent from a year earlier.
Sweepstakes site Webstakes.com and comparison shopping service Bizrate.com were next in unique visitors, with year-over-year increases of 35.8 percent and 69.7 percent, respectively. Rounding out the top five was Buy.com, which saw 438,000 unique visitors, up 11.5 percent from a year earlier.
Gift Sites Gain
In the NetRatings report, a few sites, including specialty gift e-tailers RedEnvelope.com and Spiegel.com, made big gains in visitors in the week ended December 17th.
Seven of the 10 most-visited e-tail sites were bricks-and-clicks, including Toysrus.com, which held the No. 2 spot behind its online partner Amazon, and Walmart.com, which ranked fourth and had 500 percent more traffic than it did a year ago.
eToys, which last week warned that it will miss revenue projections and lay off workers in the new year, was the third most visited site during the week, up 12 percent from the same week in 1999, NetRatings said.
Overall, however, traffic to online merchants Sunday was down 23 percent compared to the NetRatings tally of the previous Sunday, despite the fact that some e-tailers, such as Amazon and Outpost.com, have said they can fulfill orders made up until the day before Christmas.
Optimism Fades
As the holiday season draws to a close, analysts are decidedly less optimistic about e-commerce. In a research report Friday, Anthony Noto of Goldman Sachs repeated his view that online sales will come in at the "low to mid-range" of his earlier forecast for a 50 to 100 percent increase over last year.
Earlier in the week, Noto lowered his ratings on several e-tailers, citing a slowdown in sales. Goldman and PC Data Online publish a weekly index of holiday sales, which has shown that sales have slipped in recent weeks.
In his note Friday, Noto cautioned investors against "bargain shopping for e-commerce stocks," saying he does not expect a rally any time soon.
"We continue to believe that only a few, clear e-commerce leaders will see price appreciation due to holiday strength," Noto said.