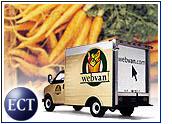 Online grocer Webvan Group, Inc. (Nasdaq: WBVN) said Monday that it will offer consumer electronics, videos, DVDs and other entertainment products as it steps up efforts to expand its reach and boost revenues.
The move comes just weeks after Webvan said it will expand into the online book sales realm. The firm also rattled the grocery industry with an earlier announcement that it plans to invest up to $1 billion (US$) to build a network of 26 warehouses around the country.
Taken together, the strategic initiatives seem to have the Foster City, California-based firm on course to compete with Amazon.com, which created a sprawling e-commerce kingdom from a customer base built on book sales.
Many analysts say that groceries are an important link to customers for e-commerce players because grocery services bypass traditional delivery channels, giving merchants direct access to customers homes, and because customers make grocery purchases as often as once a week.
Amazon itself has apparently recognized the opportunity, taking stakes in HomeGrocer and delivery service Kozmo.com.
Shares Rise
The announcement drove Webvan shares higher on Monday. The stock closed up 11/16 at 5 7/8, and could rise further this week, following favorable responses. Goldman Sachs analyst Anthony Noto reiterated the company's spot on the firm's "recommended list."
Noto said the new initiative is significant for Webvan's expansion plans. "Uniquely, Webvan is the complete home shopping solution that can profitably provide next-day delivery for free," he wrote in a research note.
Most Aggressive Grocer
Webvan, which has seen its stock drop from 34 to about 6 since going public last November, has been among the most aggressive of online grocers, helping it to establish a foothold in a market segment that — while growing rapidly by all accounts — has seen firms struggle to stay afloat.
The pioneering online grocer Peapod, for instance, stumbled to the brink of bankruptcy earlier this year before Dutch Grocer Royal Ahold came to the rescue with a $73 million cash infusion.
Although Webvan lost $57.8 million, or 18 cents a share, in the latest quarter, the company reported growth in customer accounts and average order size. Webvan is viewed in some quarters as one of the likely survivors of the ongoing e-commerce shakeout.
Noto pointed out that Webvan ended the first quarter with $540 million in cash, and will likely have at least $200 million at the end of the year.
After the Shakeout
Many analysts believe that online grocer survivors will be able to leverage their relationships with customers and sell products with much larger profit margins.
Forrester Research analyst Evie Black Dykema notes that Webvan is following an example set by HomeRuns and others who have found that selling CDs and other products offers a chance to insert higher margin products into the mix without the need for additional warehouse space.
"Smart firms view this as an early step toward using their infrastructure pipelines to deliver a range of household goods," said Dykema.
Webvan said the Electronics Specialty Shop will feature brand name merchandise including DVD and MP3 players, camcorders, cordless telephones, digital cameras, and portable CD and radio-cassette players.
Hit movies on DVD and VHS will also be available, as will games and accessories for Sega Dreamcast, Sony PlayStation, N64, and GameBoy game players.
Ultimate Shopping Convenience
Webvan believes it can one-up Amazon and others by offering same-day or next-day delivery. Customers choose a 30-minute window to have their products shipped, which analysts say may help capture impulse buys. The company said it will maintain its policy of not charging for shipping and handling for orders over $50.
The company serves the San Francisco Bay Area; Sacramento, California; and Atlanta markets, and plans to expand to Chicago as well.
Small Businesses
Goldman Sachs' Noto says a visit last week to Webvan's Atlanta distribution center convinced him that the company is well positioned to expand its offerings to small businesses, who can order office supplies, beverages, snacks and prepared food for employees.
"Webvan is uniquely positioned, due to its large product base beyond groceries, to target the more than 700,000 small businesses" in the Atlanta area, he wrote.