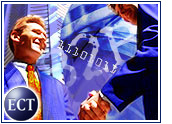 One of the fundamental rules of e-commerce is that for every dire prediction, there is an equal and opposite upbeat outlook, and vice versa. So it was a high mark of distinction — for a while — that not since consumers began flocking to the Web had a phenomenon been reported with as much consistency as the business-to-business (B2B) boom.
More than 60 coalitions involving almost 300 companies have formed online marketplaces over the past year. According to Credit Suisse First Boston, if all the marketplaces evolve as planned, they will control $3 trillion (US$) in annual purchasing power.
B2B is "a river rather than a wave," said U.S. Secretary of the Treasury Lawrence Summers in published reports.
Stream of Negativity
Even in the midst of the dot-com doldrums, analysts bravely maintained that the B2B sector would continue its rampant growth. Industry observers argued that B2B ventures had learned valuable lessons from some of the spectacular business-to-commerce (B2C) failures filling the pages of e-commerce history and were better prepared to weather the market's climate changes.
They said that businesses would embrace e-commerce more readily than consumers, in light of the potentially huge cost savings. But following its long day in the sun, B2B is at last showing signs of vulnerability.
There are too many players competing for the same finite amount of business, analysts now say, and too many of them are underfunded and poorly managed. Those that have solid financing and top brass at the helm are liable to fall under the scrutiny of the U.S. Federal Trade Commission (FTC), which is on the lookout for early indications of anti-competitive behavior.
Investors are getting skeptical, or in some cases, downright negative. In September, IPO Financial.com president David Menlow told Business Week that "B2B is a poison well for IPOs."
'Crowded Landscape'
The B2B sector appears to be a victim of its own success. According to Forrester, the recent enthusiasm for online markets has created an "unsustainable profusion" of e-marketplaces. While Forrester continues to predict rapid expansion for the B2B trade, the research firm maintains the growth will be insufficient to support all of the players.
"The explosion of eMarketplaces has created a crowded landscape within most industries," Forrester senior analyst Steven J. Kafka said. "Large firms are faced with a confusing set of options for participating in these venues: different ownership models, equity structures and product offerings. And, in this flurry of activity, firms must navigate through a free-for-all dealmaking environment."
Efficiency Through Bundling
The brains behind the B2B ventures are not oblivious to the need for creative approaches to maximize potential and minimize risk. The recently announced Dell Marketplace will offer Dell PCs, notebooks, and servers, along with related information technology equipment and office products from select suppliers.
However, Dell will not actually sell the third-party products itself. Instead, the individual marketers will handle the transactions.
Rather than generate revenue through sales, Dell executives said they initially plan to charge transaction and hosting fees from suppliers on the site, which will vary by product. Customers will primarily benefit from the exchange's simplified interface, which will allow them to bundle orders from Dell and its complementary suppliers into a single purchase.
The marketplace will also connect buyers and sellers of finished office supply and computer products, and will eventually carry chemical and cleaning supplies for business use.
Pushing the Antitrust Envelope
Other exchanges are pushing ahead with throttles wide open to become B2B behemoths. Earlier this year, DaimlerChrysler, GM, Ford, Renault and Nissan joined forces to develop giant-in-the-making Covisint. Automotive systems supplier Visteon joined the group in September.
Covisint's core offerings will include services to assist in product design, supply chain management and procurement functions in order to reduce unwanted inventories and cut costs and red tape. The marketplace will link participants with more than 30,000 suppliers, and expectations for annual transactions are as high as $300 billion.
Covisint was the first B2B exchange subjected to review by the FTC, as regulators initially feared that the major auto companies would use the exchange to impose pricing models and purchasing practices on suppliers. The participants maintained that Covisint would be open to other manufacturers and would not engage in anti-competitive practices to the detriment of smaller players.
The FTC gave its approval to the venture, but noted that it will watch Covisint closely as the e-marketplace develops and reserved the right to take action if operational practices cause antitrust concerns. Many analysts view Covisint's success as a bellwether for other industries embarking on similar ventures.
Premature Alarm
As Wall Street struggles to rise above the dampening influences of stubbornly high energy prices, there is little enthusiasm among venture capitalists for backing independent exchanges and no reason to anticipate a positive shift in the near term. It may be that the B2B players with the deepest pockets will be the only ones to survive.
However, an equally persuasive counter-argument is likely waiting in the opposite corner for the sound of the bell.
According to George Nichols, an Internet stock analyst for Morningstar.com, rumblings about a shakeout in the B2B sector are premature.
"B2B is still largely out of favor, but getting primed for a bounce-back by the end of the year, Nichols told the E-Commerce Times in September. "Unlike B2C, the B2B sector has a chance for recovery. It's a relatively young market, and many promising companies haven't gone public yet. It's too early for a shakeout," he said.