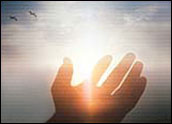 Religion may rival sex and politics as a taboo subject for dinner table conversations, but mentioning money and religion in the same breath can cause even more squirming.
Nevertheless, the relationship between church and cash is an inescapable issue for both the tiny house of worship that survives on the offerings of its congregation and the non-denominational mega-church that operates like a highly charged corporation.
Regardless of size or creed, money matters, and where there is money, there is usually an e-commerce opportunity.
Religious content has been pervasive on the Internet since its early days, but faith-based e-commerce has come a bit late to the game, in spite of the vast potential for the market. According to "Your Church" magazine, an estimated 370,000 U.S. churches spend about $49 billion (US$) annually for such purchases as special seating, flooring and windows; sound, audio-visual and lighting equipment; office furniture and supplies; and a vast array of decorative and ceremonial items.
That figure does not include the amount individuals spend on religious books, music, videos, jewelry and articles for the home. Consider too, the money travelers spend on visits to the Vatican, the Holy Land and innumerable other destinations of religious significance across the globe.
In an interview with the E-Commerce Times, Tony Uphoff, president and CEO of Beliefnet, Inc., said that religious travel is a $10 billion market.
Market without Borders
If the definition of religion is expanded to include spirituality, the scope of the overall market — and related e-commerce activity — is difficult to ascertain, but the fact that "religion and spirituality" is Amazon.com's second fastest growing category for book sales is an indication of its size and potential, Uphoff said.
In addition to the demand for traditional items, such as rosaries, menorahs or the many other religious articles sold in connection with faiths and denominations worldwide, there is a huge market for goods and services related to tangential fields.
Alternative health and medicine, for example, is often included in the spirituality category. While the spiritual significance of chiropractic treatment, herbs and botanicals, and yoga might not be apparent to some consumers, it is vital for others.
Uphoff described Belief.net as "a portal for anyone interested in religion and spirituality." He said the site provides interactive applications for ceremonies and services; sells books, music and other products with spiritual themes associated with faiths around the globe; and offers software — via the application service provider (ASP) model — designed to help churches, houses of worship, and faith-based organizations build e-communities.
Wages of Virtue?
Belief.net has yet to turn a profit, but Uphoff expressed confidence the organization has adopted a sound business model, with revenue coming from three sources: shopping, advertising and Web design. "We look to provide tools and information to individuals and groups to nurture their religious and spiritual beliefs," Uphoff remarked, adding, "We're equally committed to building a wildly successful commercial company."
Belief.net has received over $25.5 million in venture funding from Highland Capital and other investors — most of it in a second round of financing that took place after the dot-com shakeout began in earnest earlier this year.
Uphoff said he is "not attempting to time the fragility of the public markets," but acknowledged that "a liquidity event" might be in the company's future. "The pendulum has gone out a little too far, but it will swing back to the middle," he said.
Belief in B2B
As part of its strategy to move toward profitability, Belief.net signed an agreement with Churchplaza.com, a business-to-business (B2B) e-commerce Web site launched in September. Under the agreement, Churchplaza will promote Beliefnet's Web services, and obtain access to its online procurement service in return.
According to Churchplaza, the B2B site aims to serve as "resource where pastors, church leaders and administrators can fulfill all of their church purchasing needs on the Internet." The site has 50 product categories, including seating, windows, and sound and lighting equipment.
Churchplaza says it is the exclusive church supplier partner for more than 30 denominations, including the North American Baptist Churches, the Evangelical Free Church and the 5,000-church Willow Creek Association.
Dr. Thomas McElheny, CEO of ChurchPlaza, Inc., said the move to the Internet was critical to serve the needs of the large and growing church products industry. "The development of ChurchPlaza.com reflects our broader strategy to overlay a B2B e-commerce model on our already well-established offline distribution model," McElheny said.
For Part II of this report, click here.