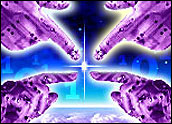 Remember when the tech rebound was supposed to happen during 2002? Now, a recent Goldman Sachs report has pushed back a meaningful rebound in corporate IT spending until mid-2003 at the earliest, predicting flat numbers until then. Many of the largest companies are still mourning truckloads of cash spent on the latest gadgets during the tech boom.
"The mood has shifted away from the need to buy the latest technology just to have it, [and toward] implementation and leveraging what a company already has," Yankee Group chief research officer Brad Hecht told the E-Commerce Times. "There is much more focus on return on investment and getting something out of what has already been purchased. Our clients are asking us to help them get their investment back by using what's already in the building."
But amid the gloom, tech bright spots remain in both the enterprise and consumer markets. While the tide is not rising enough to lift all the boats, these niches are experiencing growth in bad times.
Safety First
For example, research firm IDC has predicted that certain software categories, including intranet software and corporate portals, will see strong growth in 2002 and beyond. And security spending, which did not increase as much or as rapidly as expected immediately after September 11th, is forecast to book double-digit annual gains going forward.
In fact, IDC chief research officer John Gantz said security spending is on track to grow twice as fast as overall IT spending and to reach US$150 billion worldwide by 2006.
"Security is the one area in which corporate IT spending actually went up during the first half of 2002," Gantz said.
But those security dollars will be spent on a wide range of efforts, from firewalls to network monitoring, diluting the impact of this growth on the tech sector in general, Gantz added.
Shoppers Drop
Meanwhile, consumers, who have helped prop up the overall economy, have shown signs that they too are ready to take a break from spending on technology. Consumer activity was down in August, and though predictions call for a strong holiday shopping season online, many analysts believe the bulk of spending will not be on big-ticket technology items.
Some wireless phone makers have predicted flat or even declining sales on the horizon, for instance, and PCs are not flying off shelves as they have in the past.
Movie Time
In contrast, DVD players have been the hottest consumer tech product for two years, and in mid-2001 they were said to be the best-selling consumer electronics product ever. As a result, the industry is now pondering how to convince consumers to buy next-generation digital movie players.
In recent weeks, Sony, NEC and Toshiba have unveiled plans to introduce rival formats for more advanced DVDs.
"It looks like there's going to be a battle over the next wave of technology for DVDs," Aberdeen Group research director Russ Craig told the E-Commerce Times. However, he noted, "It remains to be seen how deep the consumer's desire is in this area."