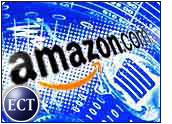 E-tail giant Amazon.com said sales grew 33 percent year-over-year to US$851 million in the third quarter, fueled by its free shipping offer in the United States and by dramatic expansion in overseas sales.
That result exceeded the companys own guidance and represented a 5 percent increase over second-quarter sales levels. Amazon said its net loss shrunk to $35 million from $170 million in the same quarter in 2001.
International growth was even more impressive, with sales up 90 percent overall to $264 million. Each of the companys four overseas sites — United Kingdom, Germany, Japan and France — recorded at least 60 percent growth.
Amazon CEO Jeff Bezos said overseas sales are on track to top $1 billion for the full year.
"We have consistently tried to lower prices, and you can see what happens in our results," Bezos said in a conference call. "We've lowered prices five times over the last 15 months, and simply put, it's working. We are committed to lowering prices for customers even though it is expensive for us."
Shipping Stays – for Now
Amazon announced it will extend its Super Saver Shipping deal, which currently waives shipping charges on all orders over $25, at least through the end of this year. The e-tailer also is testing a TV ad campaign aimed at spreading the word about free shipping.
"We're not yet ready to declare it permanent," Bezos said. "It's very expensive, so we're being very deliberate about our decision-making process. After the holidays, we will re-evaluate."
Bezos hinted that the upcoming holiday season will also feature the launch of a new store that Amazon will support with "heavy on-site promotions." He declined to give details, though he said guaranteed shipping will be available for more days than ever before during the season.
"We expect to be more relevant than ever to more customers this holiday season," Bezos said.
Strong Quarter Seen
Amazon predicted fourth-quarter revenue will rise to between $1.325 billion and $1.425 billion, with a pro forma operating profit of $70 million to $95 million. Executives would not comment on whether the company will post an operating profit for the full year, though they forecast growth in the 10 percent range for 2003.
Shares of Amazon, which surged to a new 52-week high of $23.03 Thursday, slipped more than 5 percent to $18.79 in early trading Friday. Analysts noted that the stock has had a long upward run, which likely already factored in good news for the third and fourth quarters.
Boding Well
Amazon's results are another boost for e-commerce in general heading into the key holiday season, which several forecasters have predicted will be a period of strong growth for the sector.
"Amazon is the best barometer out there for the online commerce industry," GartnerG2 research director David Schehr told the E-Commerce Times. "As Amazon goes, the industry usually follows."
Observers have been waiting eagerly for solid evidence that Amazon's price war with competitor Buy.com, which has wiped out almost all shipping fees, has had a positive effect on results.
But Schehr said it is still too early to predict whether other online merchants will follow the lead of Amazon, which continues to leave open the possibility that it will drop free shipping or at least raise the minimum purchase threshold once the holidays have passed.