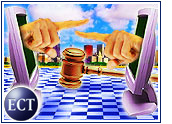 Amazon.com has sued partner Expedia, claiming the travel site has not lived up to its end of a deal struck almost exactly a year ago between the two online companies.
According to Amazon, Expedia failed to make payments called for under terms of the deal, which stipulated that Amazon would receive up to US$16 million from the online travel company. Amazon claims it is owed about $3.7 million to date.
Neither Expedia nor Amazon immediately returned calls for comment.
Bigger Problems?
Analysts said the flare-up should serve as a reminder that the Amazon partnership program, which encompasses more than a dozen well-known companies, is not for everyone.
At the time the Expedia deal was signed, just days after the September 11th terrorist attacks, analysts said it made sense for Amazon to add travel to its growing menu of products. "All good malls need a travel agency," Forrester Research analyst Henry Harteveldt told the E-Commerce Times.
But just months into the agreement, Expedia was already expressing disappointment with the way the Amazon deal was working out.
Efficacy in Question
Even as it sued Expedia, Amazon announced plans to extend its partnerships with discount travel site Hotwire and the National Leisure Group's Vacation Store. The company did not disclose details of those deals, but noted that both Hotwire and Vacation Store are original partners in its travel store, which debuted last September. Expedia is also an original partner in that store.
Many of Amazon's partnership deals have been cited for their effectiveness, especially the company's first-of-its-kind marriage with Toysrus.com. Many observers believe that pact saved Toysrus.com after its disastrous early attempt at flying solo online resulted in late holiday deliveries in 1999.
But even the Toysrus deal has been a subject of concern. In March, analysts began to ask whether Toysrus was trying to rework the deal, which was drafted at the height of dot-com mania, to include more favorable terms — and whether such an effort could spill over to other Amazon partnership programs. The original Amazon-Toysrus agreement, forged in mid-2000, had a 10-year life span.
"There have been companies that have said publicly they're not happy with what Amazon has done for them," Morningstar.com analyst David Kathman told the E-Commerce Times. "It's a learning process for both sides. Amazon is still feeling its way, and it's made some mistakes, which it will hopefully learn from."
Try, Try Again
Overstock.com also left an Amazon program in which it planned to sell used computers through the e-tail giant's site, saying the program resulted in only a handful of sales.
Still, Amazon seems determined to strike as many partnerships as possible. In addition to deals with Target and Borders, Amazon announced Friday that it will open an Office Depot page on its site.