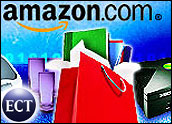 Amazon rolled out the next phase of its five-year partnership with retailer Target. The companies have launched an integrated site that offers merchandise from Target, Amazon, Marshall Field's and Mervyns.
The site will give Amazon its first crack at selling clothing online — just in time for the holiday season.
The debut of the online store also will be backed up with the launch of a new Marshall Field's catalog, Target said, which might help drive traffic to the site.
All in One
Jerry Storch, a vice president at Minneapolis, Minnesota-based Target, said the company felt it made sense to work with Amazon to offer a wider array of products ata single location.
"Partnering with Amazon.com also provides both companies equally great opportunities in merchandising, guest service and technology," he said.
Modest Dividends
Target and Amazon first linked up last fall, and Amazon CEO Jeff Bezos touted Target's ability to increase the variety of products offered to existing Amazon customers. Although financial terms have not been revealed, the deal is similar to the one in place with Toysrus.com, in which Amazon receives a cut of all transactions it handles.
Analysts have been skeptical that the Target deal will pay off as well as the Toysrus.com deal, which has become the standard by which other brick-and-click partnerships are measured. While toys have been a natural sell online, many of the products Target sells are of the sort that shoppers historically have been reluctant to purchase on the Web.
"We didn't expect to see a big impact on Amazon's bottom line from the start, and that seems to be the case in the numbers," Morningstar.com analyst George Nichols told the E-Commerce Times. "There are benefits for both sides, but it's not a huge moneymaker."
Deal on Track
The new site collects all traffic heading to Target.com, Fields.com and Mervyns.com. Once at the site, shoppers will find products from those three retailers in addition to other products, such as books, music and DVDs from Amazon. Amazon is providing Web site technology, including one-click checkout and order-fulfillment services, for Target.com purchases.
"Target is a best-of-breed retailer that shares Amazon.com's passion for providing customers with the best shopping experience," Bezos said in a statement.
Brick and Muscle
Target is one of a half-dozen well-known retailers that have turned to Amazon for online support.
In addition to Toysrus.com, Amazon also works with Borders, has inked a limited deal with Circuit City that lets online shoppers return products at that chain's store locations, and recently took over onlineoperations for Virgin Megastore.