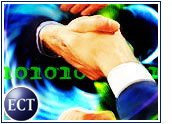 In an effort to replicate the Virgin Megastore experience online, Virgin Entertainment has handed control of the company's e-commerce efforts to Amazon.com.
Amazon will handle inventory, customer service, site content and fulfillment for VirginMega.com. Despite the handoff, Virgin Group founder and CEO Richard Branson said, Virgin "will continue to provide music and entertainment consumers with the ultimate choice and convenience in purchasing."
"This allows us to cater not only to the casual buyer to whom convenience is important, but also to the most discerning and knowledgeable music and entertainment fans," Branson noted.
Enter the Hosts
One area that Amazon appears to have targeted heavily as a potential money-maker is Web hosting for well-known retailers that are considered successful in their own right.
The agreement with Virgin comes after Amazon signed prior deals with both Toys "R" Us and Sony.
"Amazon has a reasonably sound CRM strategy," Gartner senior analyst Debashish Sinha told the E-Commerce Times.
Companies that have cast their fates with the e-tail giant "have found the experience adequate," Sinha said. "Amazon is doing fairly well."
Radio-Free Shopping
In addition to their hosting pact, Virgin and Amazon said they will join forces to launch Virgin's Japan Web site, Amazon.co.jp, before year-end. Like the U.S. site, the Japanese destination will feature a wide collection of music, books, video games, videos and DVDs.
The site will provide the type of content for which Amazon has received industry acclaim, including reviews, recommendations and other editorial elements. Japanese shoppers also will be able to use Amazon's 1-Click feature to make purchases.
Visitors also will be able to listen to Radio Free Virgin while they shop. Virgin said it hopes the streaming radio will enhance buyers' shopping experience and keep them coming back.
The Great Experience
While some e-tailers — notably Amazon, which recently lowered its book prices — claim to be the lowest-priced place to shop online, most analysts said they believe true differentiation will result from customer experience, not cost.
"Companies that present the most seamless experience and do it without stumbling, they're the ones that are rising to the top," Forrester analyst Christopher Kelley told the E-Commerce Times.
Although Amazon is not immune to the woes that can befall e-commerce initiatives, the company seems to be building up a resistance to some of the elements that threaten to bring e-tailers down.
Blue Skies
Amazon finished the first quarter of 2002 with a net loss of US$23 million, but both the company and Wall Street viewed that outcome as a positive one.
The first-quarter loss is an improvement over the same quarter last year, when the e-tail giant reported a net loss of $234 million, spawning dire predictions about its fate and questions about the feasibility of its business model.
Amazon chief financial officer Warren Jenson said the company has improved its earnings while still achieving its main business objectives.
"Our continued operational progress and momentum allow us to further lower prices for customers and at the same time increase our 2002 guidance," Jenson noted. "It's the best of all worlds — lower prices for customers, better customer service and lower costs — all driving us toward our objective of free cash flow for the year."