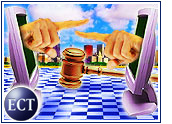 The U.S. Securities and Exchange Commission said it has reached a settlement with Amazon.com on charges that the e-tail giant helped onetime partner Ashford.com dress up its financial results in 2000.
The action resulted in a cease-and-desist order, requiring that Amazon refrain from similar tactics in the future, but no additional action was taken against the company.
The same cannot be said for Ashford, a luxury e-tailer bought last year by Global Sports. Two Ashford executives have agreed to pay civil fines totaling US$85,000 in connection with the same practices.
Largely Unscathed
Morningstar.com analyst David Kathman told the E-Commerce Times that Amazon probably escaped without too much damage to its reputation.
In fact, a separate SEC inquiry into the way Amazon accounted for revenue in some of its partnership deals, namely its Amazon Commerce Network, was closed without any action being taken.
"I suppose it's possible that there may be other situations among Amazon's various partnerships that might cause the SEC to come sniffing around, but I don't see any reason to believe that there's anything bad going on," Kathman said. "Amazon has generally been pretty good about disclosing their financial information, and it's nowhere near as complicated as companies like Enron, Tyco and GE, which have attracted so much criticism for their accounting."
Complicated Dealings
The SEC said that in March 2000, Ashford deferred $1.5 million worth of expenses connected to its marketing partnership with Amazon. The move helped Ashford beat analysts' earnings estimates in mid-2000 by altering its loss of 32 cents per share to 30 cents per share — less than analysts' estimates of 31 cents per share.
"The improper deferral resulted from the settlement of a dispute with Amazon.com using two separate documents which were prepared by Amazon.com at Ashford.com's request," the SEC said in announcing the settlement. "Ashford.com subsequently failed to disclose one of the two documents to its auditors."
The dispute stemmed from the first promotion that Amazon and Ashford ran together in February 2000. That promotion was subject to the terms of a 1999 agreement, which called for Ashford to pay Amazon $6 million for placement on the e-tailer's site and to provide in-kind marketing. The agreement also had a contingency clause that required Ashford to pay an additional $2 million if Amazon delivered 45,000 customers before the end of 2000.
The promotion involved a discount coupon, but because the coupons lacked unique serial numbers, Ashford claimed it lost $600,000 in revenue as non-Amazon customers redeemed the discounts.
Other Claims
That dispute was later settled, with Amazon repaying Ashford the lost revenue and receiving credit for additional customer referrals in return. Amazon then provided the two documents detailing different settlement terms, clearing the way for Ashford to misrepresent its actual costs by providing only one of the two letters to its auditors.
Separately, the SEC also found that Ashford misrepresented earnings later in 2000 by changing the way in which it accounted for some expenses, including payments of shares of stock to Amazon in exchange for ad placement and a non-compete agreement.
Accounting practices related to online marketing partnerships have been scrutinized in the past, most notably in the case of Homestore.com, which was forced to restate earnings after admitting that ad-exchange agreements were improperly accounted for as revenue.