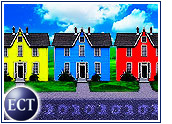 Online real estate company Homestore (Nasdaq: HOMS)has admitted it overstated revenue from January 2000 toSeptember 2001 by up to US$158 million, promptingNasdaq to initiate proceedings to delist the stock.
Homestore said it plans to challenge the decision byrequesting a hearing next week before a Nasdaq panel.
"Homestore has come clean on prior problems, and that'sthe first step to a healing process. I'm hopeful forthem, but I wouldn't necessarily put investors' moneyin them," Salomon Smith Barney analyst Lanny Bakertold the E-Commerce Times.
Stock Fluctuations
The company's stock resumed trading Friday morning under thesymbol HOMSE after being halted for more than a week.
"When trading resumes, our stock price may experiencelarge and rapid fluctuations," the company said in astatement issued prior to the resumption of trading. Indeed, Homestore's stock plunged 28 percent to 53 cents before rebounding to 64 cents in early trading Friday.
Nasdaq previously had halted trading in the stock on December 21st, but itresumed trading on January 7th. Shares of Homestore were at 72cents when trading was halted again on February 13th — the day the company said it would restate financialresults for 2000 — far off their 52-week high of $37.16.
Inflated Revenue
Homestore said revenue in 2000 was between $39million and $45 million less than previously stated.Also, in the first three quarters of 2001, advertisingrevenue was overstated by $76 million to $82million, and the company's non-advertising revenuewas overstated by $28 million to $31 million.
In December, when Homestore first announced the accountinginquiry, it said only that it had overstated onlineadvertising revenue by $54 million to $95 million inthe first three quarters of 2001.
"They've got a lot of work to do, to be sure. It'spretty clear that the underlying company is a lotsmaller than we all thought six months ago," Bakersaid. "Clearly, they now have to go back and addressthe mistakes that were made by prior management."
Homestore said it plans to finish its review and make acomplete restatement of financial results bymid-March. The company already has fired or acceptedresignations from seven employees as a result of theaccounting probe.
Lawsuits Galore
Homestore also faces a flurry of class-action lawsuitson behalf of shareholders who purchased stock from May4, 2000, to December 21, 2001. The complaints claimHomestore illegally boosted its stock price byartificially inflating its financial results.
According to law firm Rabin & Peckel, Homestore andits officers and directors "misrepresented Homestore'strue prospects in an effort to conceal Homestore'simproper acts until they were able to sell at least$16 million of their own Homestore stock."
Law firm Berman DeValerio Pease Tabacco Burt & Pucillosaid Homestore used "accounting tricks" to boostrevenue rather than real sales. In exchange for an adplaced on the Homestore site, the company reportedly wouldpurchase a product or service from the advertiser, ineffect bartering ad space.
According to the complaint, three former Homestoreexecutives — Stuart Wolff, John Giesecke and JosephShew — made almost $34 million from insider salesbefore investors caught on.
Holding Out Hope
Despite restated results, lawsuits and thepossibility of delisting, Baker said, Homestore'sproblems are not insurmountable. "They've built theirmine on what ought to be a fairly rich vein ofopportunity," he noted.
"Listed or not listed, trading or not trading, thecompany still has some important relationships withrealtors. Not all those relationships are in greatshape, but they are clearly the Internet company ofrecord in this category. The challenge for currentmanagement is to capitalize on what has been built andtake it … to the next level," Baker added.