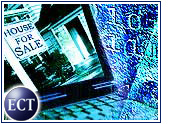 Shares of Homestore.com (Nasdaq: HOMS) hit a 52-week low Tuesday after the online real estate firm, already buffeted by an ongoing review of its accounting practices, said it will lay off 300 more workers and will spin off some assets.
Although the Westlake, California-based company said the layoffs will occur during the current quarter, it did not specify where they will be made.
"As a result of an extensive assessment process involving both customers and employees, we have refocused Homestore on its core business objective — making real estate professionals more productive and profitable," Homestore CEO Mike Long said in a statement.
Homestore also said it has sold its eNeighborhoods.com unit, though it did not disclose the buyer or the purchase price. eNeighborhoods provides neighborhood information and credit reporting services.
"A more focused, leaner Homestore makes us a more reliable partner to the real estate industry, a better value for our customers, and a more stable workplace for our employees," Long said.
Second Wave
The current round of layoffs brings the total number of workers jettisoned by Homestore in the past four months to 1,000.
The company cut 700 workers and promised a major restructuring last October, just weeks before it announced disappointing third-quarter results.
New Suits
Meanwhile, Homestore has been hit with another batch of class-action lawsuits filed on behalf of shareholders. More than a dozen suits now have been filed, alleging that the company artificially inflated its stock price by revealing false financial information.
Homestore stock fell to US$1.12, a new yearly low, in heavy trading Tuesday. The stock was up slightly to $1.22 in early trading Wednesday.
Although the company struggled throughout the latter half of 2001 and saw its stock price fall from a high of nearly $40 in July, it was not thrust into the spotlight until December.
The Nasdaq halted trading in Homestore stock on December 21st pending news from the firm. In early January, the company said it had overstated its 2001 revenue by as much as $95 million. According to the company, bartered advertising was counted as income in the first nine months of the year.
Homestore stock saw only a slight dip after trading began again, but since then it has been dragged down by market-wide concerns about accounting tactics and fears that tainted revenue numbers will spread to other quarters.
Homestore also has seen its chief financial officer depart and has announced that it disciplined seven employees in connection with the accounting woes.
Dominant Player
Still, some observers remain cautiously optimistic about Homestore's chances to succeed. It is by far the dominant company in the online real estate space, according to Derek Brown, an analyst at W.R. Hambrecht & Co.
Brown has lowered his rating on Homestore to neutral but said the company should be "well positioned over the longer term within the $5.4 trillion worldwide residential real estate market."