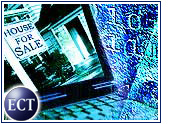 Homestore.com (Nasdaq: HOMS), the dominant online real estate company, said Thursday that chief financial officer Joseph Shew is leaving the company for "personal reasons."
Homestore said that a search is underway for a new CFO. Shew, who joined the company in 1998as controller, was subsequently promoted to vice president of finance and became CFO in February, when Homestore acquired rival Web site Move.com.
Despite its status as the top online destination for homebuyers, and an alliance with the National Association of Realtors, Homestore has beenstruggling to make money. The Westlake Village, California company last month reported a wider-than-expected loss for the third quarter, mainly because of a huge drop in advertising revenue. Homestore predicted the weakness would continue into the fourth quarter.
In October, Homestore announced a restructuring that included the elimination of 700 jobs, or 20 percent of the company's workforce.
Cleaning House
Homestore shares have been in a steep plunge since July, when they traded at more than US$35 apiece. In early trading Thursday, the shares were down 28cents at $2.82.
Homestore's woes, and those of competitor Homeseekers, show the difficulty of earning money through online residential real estate. The doldrums that hit online advertising have not helped.
Buying a home is a big decision, and consumers want to deal with live people in local markets, Gartner Group research director Mike Bell said.
Going Local
"People will use the Web to do sort of an initial search to see what the market looks like," Bell told the E-Commerce Times, but "they'll still, at the end of the day, use a broker."
Companies that try to "Webify" the process of finding and buying a home "have a tough row to hoe," said Bell.
"It's a very local business," Bell said. "It's a very personal business."
Bell believes the Internet may be better suited to the commercial real estate market, which includes corporate lease transactions and other deals that are not as personal as a home purchase.
Automate, Mate
While consumers are inclined to use the Internet as an "adjunct" to theprocess of shopping for a home or a mortgage, according to Bell, companies are moreinterested in streamlining the real-estate transaction process.
"The big promise of the Web is actually automating the process," he said. "We'rebeginning to see that happen on the commercial side."
For companies looking to make money from consumer real-estate deals,according to Bell, the outlook is not so bright.
"Are you going to earn transaction fees through the Web in real estate? I don't think so," Bell said."It's a local business — 90 percent of real estate is done locally, with local firms and local relationships. The issue is: How do you scale this?"