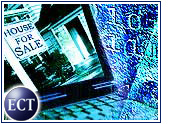 Homestore.com (Nasdaq: HOMS), the dominant Web real estate player, on Thursday reported a third-quarter financial loss double the estimates of analysts, due largely to a plunge in advertising revenue.
Homestore stock fell 54.3 percent Friday to US$2.28 per share in the wake of the news, which also included a dour forecast from the company for the fourth quarter and 2002.
The Westlake Village, California-based company reported revenue of $116.1 million, a 34 percent increase over a year earlier, but a pro forma loss of $6.9 million, or 6 cents per share. Analysts had been calling for a pro forma loss of 3 cents per share.
On a net basis, with merger costs and other charges included, Homestore lost $106 million, or 96 cents per share.
Cuts Made
The earnings announcement came a week after Homestore said it would overhaul its structure in order to meet changing market conditions. That restructuring will create a real estate services group and a consumer and retail division within Homestore — and also will result in up to 700 job cuts worldwide.
"In light of the changed business environment, we are taking the actions necessary to maintain our leadership position in the online real estate market," Homestore chairman and CEO Stuart Wolff said.
Advertising Slumps
Advertising revenue plunged 44 percent from the second quarter, Homestore said. During the third quarter, three major advertisers, worth $15 million a year each, either chose not to renew or renewed at lower levels.
In a conference call, Wolff said that those large national accounts helped "shelter" Homestore from the weakening ad market until recently. Homestore said it is attempting to attract more local advertisers to replace them.
"It has become increasingly difficult to generate revenue through online advertising," Wolff said.
Homestore said that subscription revenue from realtors held up better but still was hit by the tragedies of September 11th. Subscriptions grew by 6 percent in the third quarter.
Dim Outlook
The advertising slump also prompted Homestore to downplay its outlook for the near future, predicting revenues of $95 million to $105 million and a pro forma loss of as much as 38 cents per share for the fourth quarter.
Homestore said it will earn a pro forma profit in 2002, however, estimating income of 8 to 17 cents for the year.
"Our advertising pipeline is extremely limited right now," Wolff said. "And we don't believe a substantial recovery is likely in 2001 or 2002 given the current macroeconomic conditions.
"Still, we believe in long-term viability of our media model," he said.
Hits Keep Coming
Despite the sagging revenue, Homestore said it has been drawing more visitors to its site. The company attracted 10.1 million users per month in the third quarter, an 86 percent increase from the year-earlier period. Homestore said that the increase came largely through acquisitions.
Homestore appeared among the top 25 most-visited Internet properties in September for the first time, according to Jupiter Media Metrix and Nielsen//NetRatings.